Ghostbusters's Reitman Is a Master of the SciFi-Comedy Merge. Who Else Is?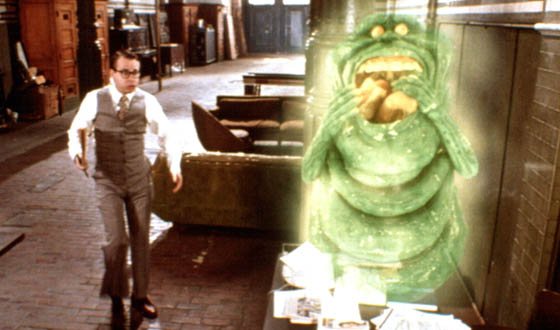 Ghostbusters's Reitman Is a Master of the SciFi-Comedy Merge. Who Else Is?" width="560″/>

Mixing scifi and comedy is a difficult proposition: Often, the effects will overwhelm the comedy, or vice versa. (There's a reason every special effects driven comedy since Ghostbusters has been sold as "the next Ghostbusters.") There is, however, a group of directors who've managed to find the middle of the Venn Diagram. Let's count down the best:
10. Tom Shadyac



Shadyac's first professional directing work was the 1991 TV movie Frankenstein: The College Years, which set the stage for his interest in mixing scifi's peanut butter with comedy's chocolate. Shadyac's cinematic ambitions then continued with The Nutty Professor (1996), where he reimagined Jekyll and Hyde. Shadyac went on to mix fantasy with comedy in Liar Liar (1997), a movie about a wish gone wrong; and the god-coms Bruce Almighty (2003) and Evan Almighty (2007). If the last two were funny, Shadyac might have done better than 10.
9. Chris Columbus



Chris Columbus didn't approach scifi/comedy mash-ups until over a decade into his career, when he released his first light-hearted scifi, Bicentennial Man (1999). Since then he's embraced the genre, directing the first two Harry Potter movies (which certainly contain their comedic elements), and the potentially hilarious (or at least hilariously titled) Percy Jackson & The Olympians: The Lightning Thief (2010). As a producer Columbus also spearheaded Night at The Museum (2006), which blends just about every genre there is.
8. Tim Burton



One of Burton's first movies, Frankenweenie (1984) twisted the Frankenstein myth to fit in a reanimated puppy (I think we saw something similar to this above?) Four years later, his Beetlejuice (1988) comfortably aped Ghostbusters with a deft mixture of comedy and ghost stories. Edward Scissorhands (1990) might be more dark fairy tale, but the director firmly returned to the mix with the under-appreciated Mars Attacks! (1996), his perfect parody of alien attack movies from the '50s.
7. Joe Johnston



Joe Johnston first embraced the mash-up with Honey I Shrunk The Kids (1989), and then followed up with cult favorite corny superhero flick The Rocketeer (1991). In Jumanji (1995), Johnston worked with Robin Williams to adapt Chris Van Allsburg's children's book. And though it's a stretch to call any movie in the Jurassic Park series a comedy, Jurassic Park III (2001) was easily the lightest. The director's recent focus on more serious fare (2011's Captain America flick among them) holds him in the upper reaches of the list.
6. Harold Ramis



One of the most prolific and successful comedy directors in history, Ramis is best known in the scifi world for his acting as Dr. Egon Spangler in Ghostbusters. It wasn't until a decade later that he would try directing fantasy with Groundhog Day (1993), which introduced Bill Murray to the concept of time travel and parallel universes. In Multiplicity (1996) Ramis had Michael Keaton creating multiple clones of himself, with hilarious results. His last directing effort was the "historically based" Year One (2009).
5. Barry Sonnenfeld



Sonnenfeld's Men in Black (1997) is probably the closest any movie has ever gotten to the Ghostbusters style without being Ghostbusters itself. Sonnenfeld re-teamed with MIB star Will Smith for 1999's steampunk retro spectacular Wild Wild West (which was, admittedly, not so spectacular), and again for Men in Black II (2002). Sonnenfeld's work as a producer is no less prolific, most recently having developed last year's CGI monkey riot Space Chimps.
4. Mel Brooks



The 2000 Year Old Man is well known for his broad parodies, scifi being no exception. Like Burton, Brooks looked to Mary Shelley for inspiration when creating Young Frankenstein in 1974. (Word to prospective scifi/comedy directors: Find your own spin on Frankenstein, and you're in.) Brooks returned to scifi with Spaceballs (1987), brutally parodying Star Wars. Since then he's revisited Frankenstein on stage and re-booted Spaceballs as a cartoon series. Hopefully, he has at least one more scifi parody left in him.
3. Frank Oz



You wouldn't expect the voice of Miss Piggy to take things seriously with his movies, and with the exception of The Dark Crystal (1982), none of them do. His remake of Little Shop of Horrors (1986), a musical about killer plants from outer space, was a riot. He followed that with The Indian in the Cupboard (1995) — an effects-driven comedy about toys coming to life — and The Stepford Wives (2004), which presented Oz with the challenge of making Nicole Kidman seem like a remote, robotic ice queen. Oh wait.
2. Joe Dante


If one movie gave Ghostbusters a run for its money, it was Joe Dante's Gremlins (1984), which he followed up with Innerspace (1987), a comedic riff on Fantastic Voyage (1966) that had moviegoers remarking, "I really enjoyed watching Dennis Quaid inside of Martin Short!" Dante returned to Ghostbusters territory with the subversive Gremlins 2: The New Batch in 1990, created giant, radioactive bug monsters in Matinee (1993), and answered the eternal question, "What if a microchip brought toys to life, and then they fought?" in Small Soldiers (1998). Close, but no Slimer.
1. Ivan Reitman



And then there's the guy who started it all directing Ghostbusters (1984) and Ghostbusters II (1989). Reitman created another scifi comedy classic with Twins (1988), where six fathers and one mother created Arnold Schwarzenegger, and then with the runoff, Danny Devito. Then he assembled another team of scientists to fight DNA Gone Wild in Evolution (2001). His last foray in directing was My Super Ex-Girlfriend (2006), which clumsily tried to meld scifi and romantic comedy. With any luck, the Scifi/Comedy Master will return to more comfortable territory with Ghostbusters III.

Click here for a complete schedule of Ghostbusters and Ghostbusters II on AMC.
Read More