Gene Hackman's Magnificent Seven Trips to the Wild West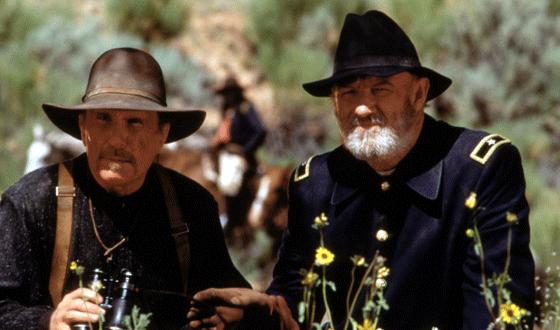 Gene Hackman may be best known for movies like The French Connection and Superman but before he swore off violent roles in 2002, he managed to make quite a few trips to the Wild West. The dusty terrain suited him perfectly — it's no coincidence that Gene Hackman earned the second of his two Oscars playing likable villain Little Bill in Clint Eastwood's Unforgiven. Since he's pretty much retired from acting (his last role was in 2004's icky Welcome to Mooseport), Hackman fans will have to content themselves with dipping into his back catalog. The following list of his finest Westerns is an excellent place to start.
The Quick and the Dead (1995)
Some might call it over-directing, but swooping, craning, and spiraling camera work is what you expect of Sam Raimi. In The Quick and the Dead, Hackman plays the brutal mayor of a frontier town, making the movie an odd parallel to Unforgiven, where he similarly played a sadistic sheriff. But this is no phoned-in retread: Hackman gives a nuanced performance as the villainous gunman at the center of a quick-draw competition. He also manages to survive Raimi's kinetic cinematography — no mean feat.
Wyatt Earp (1994)
This semi-biographical Western will always be compared to Tombstone, which beat it to the multiplex not to mention at the box office. Both had great casts, to be sure, but Hackman's turn as Earp's father Nicholas was almost enough to tip the scales in his movie's favor. All Hackman needs is a couple minutes of screen time
to add immeasurable depth to a character, but he's given precious little to work with here. For a bigger helping of Hackman goodness, you might want to try…
Geronimo: An American Legend (1993)
This movie's main subject is, of course, the waning days of heroic Apache leader Geronimo. And a couple of old move warhorses are behind it — director Walter Hill (48 Hrs.) and writer John Milius (Red Dawn), the architects of the modern action movie. The movie practically wafts old boot leather, with Hackman clocking in a command performance as the stern but sympathetic Brigadier General George Crook. Just don't confuse it with the made-for-TV movie with the same title that came out the very same year! Apples and oranges.
Unforgiven (1992)
It was nearly twenty years between Bite the Bullet and Hackman's next Western, but it was sure worth the wait. In Unforgiven, the actor's great achievement is keeping his character Little Bill simultaneously repulsive and sympathetic. While he's full of good intentions and suburban ideals, his commitment to law and order results in some pretty despicable things. The gulf between intention and action is what makes Hackman's portrayal so magnetic, winning him an Oscar for Best Supporting Actor.
Bite the Bullet (1975)
This is one of Hackman's first Western roles, and also one of his best. Hackman plays one of the riders in a cross-country horse race with a purse of $2,500 dollars awaiting the winner. Like always, Hackman manages to be both understated and commanding as Sam Clayton — a longtime cowboy with a love for horses and little patience for greenhorns. While James Coburn, Candice Bergen, and Airwolf's Jan-Michael Vincent may cloud the waters, it's Hackman who draws the eye.
Zandy's Bride (1974)
Both Hackman and his co-star Liv Ullmann are perfectly cast in this intimate Western romance, in which a crass pioneer man (Hackman) sends away for a mail-order bride, with whom he develops a loving relationship despite their combative early days together. The action's a bit uneven, but Ullmann's luminosity is a great foil for Hackman's gruff malaise as they push and pull against the gorgeous looming backdrop of Big Sur. As a bonus, the movie was adapted by screenwriter Marc Norman, who went on to win the Oscar for Shakespeare in Love 25 years down the road.
The Hunting Party (1971)
Warning: This weird Western is for die-hard Hackman fans only. As rich, mean Texas rancher Brandt Ruger, a very young Hackman spends much of the movie galloping around with his fancy friends chasing after the illiterate outlaw (Oliver Reed) who made off with his wife (Candice Bergen). Hackman shows glimmers of the glittering villains he would portray later in life as he stalks the pair with a viciousness that portends the violence to come — which is considerable, to say the least.
Read More