Five Comic Book Artist Movies Even Freakier Than Superman's Shuster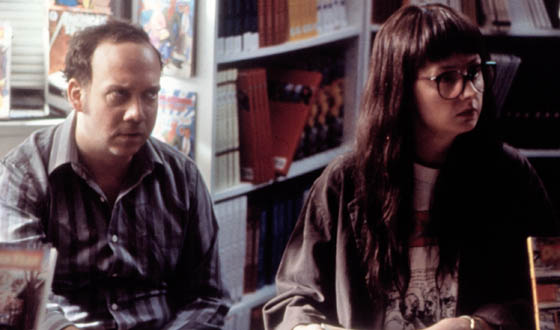 <img src="http://dev.blogs.amctv.com/wp-content/uploads/2009/08/American_Splendor_560x330_MSDAMSP_EC005_H.jpg" alt="" title="Five Comic Book Artist Movies Even Freakier Than Superman's Shuster" width="560″/>

Comic creators are an odd lot. Take for instance the upcoming biopic about Superman co-creator Joe Shuster's secret life as a fetish artist: It seems the Man of Steel's pop dabbled in S&M superhero tales after his work with Big Blue. But Shuster's hardly alone in his eccentricities. Looking over past depictions of cartoonists on the big screen, one finds plenty of oddballs to keep him company. Here are the best movies about the geeky weirdos who devote their lives to the drawing board.
Monkeybone (2001)


Based on the graphic novel Dark Town, Monkeybone is populated with the sort of eye-popping visuals that made director Henry Selick's A Nightmare Before Christmas a modern classic. And it's no mere visual feast — the creepy world of "Downtown" that Brendan Fraser's comatose cartoonist finds himself trapped in is meant to represent the artist's repressed id. (Meanwhile, the mischievous Monkeybone is a stand in for his, well, you fill in the blanks.) True, the movie falls apart once Monkeybone enters the real world, but Chris Kattan saves it as a remarkably nimble deceased gymnast.
Comic Book Confidential (1988)


Before everyone and their mother was rushing to anoint comics "the next big thing," filmmaker Ron Mann (Grass) made a case for the art form in this nifty documentary. Everyone from Pulitzer Prize winner Art Spiegelman (Maus) to then rising star Frank Miller is spotlighted. Mann offers a sturdy overview of comics from the early days of government censorship (crazy old Fredric Wertham and his nutty theories about Batman and Robin's relationship almost destroyed the industry) to the indie comics boom of the '80s. Hopefully the Shuster biopic will share Confidential's love of the medium's rich history.
Chasing Amy (1997)


Still Kevin Smith's finest hour, Amy is as much a flick about comic book artists as it is about the slippery nature of love and the sexual proclivities of the Archie gang. Ben Affleck and Joey Lauren Adams' romance unfolds in art studios and sparsely attended conventions, while Jason Lee's Banky stands up for every inker who has ever been called a "tracer." Even Jay and Silent Bob get the four-color treatment, appearing in Bluntman and Chronic comics (drawn by Madman artist Mike Allred) throughout the movie.
American Splendor (2003)


How do you tell the story of Harvey Pekar, a man whose life is an open (comic) book? Filmmakers Shari Springer Berman and Robert Pulcini hit on the ingenious idea of blending fiction and reality, combining interview segments with the real-life Harvey into the narrative. The result goes beyond mere biopic to create a deeply lived-in portrait of the "everyman." (It's also one of the few movies that actually shows the process of making comics.) If the Shuster biopic hopes to reach mainstream, the filmmakers would be wise to adopt the cutting-edge techniques of Splendor. (Perhaps some animation to depict Shuster's transition from Metropolis to the seedy world depicted in The Nights of Horror comic?)
Crumb (1994)


Terry Zwigoff's acclaimed documentary is one of the finest portraits of an artist — comic book or otherwise — ever made. Both a crash course in underground comix and a chilling look at a highly dysfunctional family, Crumb presents a case for the artist as a misunderstood genius and a truly tortured soul. As we meet the extended Crumb family (shut-in brother Charles, rope-swallower Maxon), the creeping feeling sets in that Robert is actually the most normal of the bunch. You may not emerge a fan of Crumb's work, but you find a deeper understanding of what makes a comic legend tick. You might also need a cold shower: That Maxon fellow is creepy.
And here are some duds that need to go back to the drawing board:
The Hand (1981) — Thandie Newton as Condoleezza Rice in W. was scarier than anything in Oliver Stone's cheesy second feature about a comic book artist (Michael Caine) whose severed drawing hand comes to life to wreak havoc like Thing from The Addams Family.
Cool World (1992) — Animation maverick Ralph Bashki wanted this Kim Basinger vehicle to be a creepy horror story about an artist who fathers a half-human/half-cartoon monstrosity. Instead, we're stuck with Gabriel Byrne and Brad Pitt interacting with poorly rendered 'toons and bad puns.
Art School Confidential (2006) — The art class scenes in Ghost World have more sting than anything in Terry Zwigoff's and Daniel Clowes's follow-up, loosely based on the latter's experience at the Pratt Institute.
Got a favorite comic book artist who should get the biopic treatment? Let us know in the comments. And for more comic book movie news and views, hit up Nick Nadel's column on Twitter.
Read More