Columnist John Scalzi Wins Hugo Award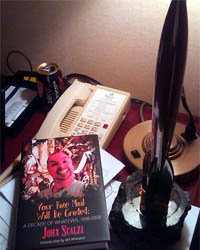 AMC columnist John Scalzi was the recipient of the Best Related Book Hugo Award at a ceremony last night in Montreal, Quebec. Scalzi, who won last year's Best Fan Writer Hugo for his work on his personal blog Whatever, was recognized for his collection Your Hate Mail Will Be Graded: A Decade of Whatever, 1998-2008.
Your Hate Mail brings together ten years of Scalzi's best and most popular blog
posts — on topics ranging from politics to writing to scifi to cats
(preferably, ones with bacon on them). Don't like what he has to say? So much the better: As the book's title suggests, Scalzi grades all his hate mail based on its originality before sending it back.
The Best Related Book category pertains to works that are either non-fiction or fictional, but are noteworthy primarily for aspects other than the fictional text. Scalzi beat out Farah Mendlesohn's Rhetorics of Fantasy, Cathy and Arnie Fenner's Spectrum 15: The Best in Contemporary Fantastic Art, Lillian Stewart Carl and John Helfers's The Vorkosigan Companion: The Universe of Lois McMaster Bujold and Paul Kincaid's What It Is We Do When We Read Science Fiction to win the award.
Read More