Classic Ten – Iconic Hollywood Hippies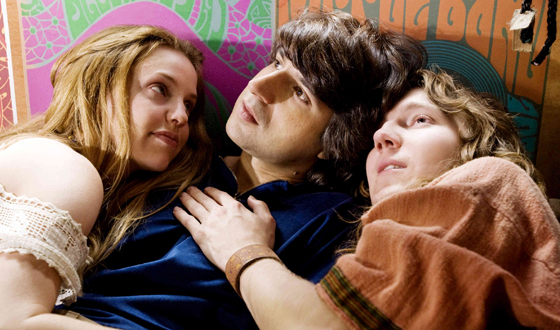 Has it really been 40 years since Woodstock? The iconic hippie gathering will never be far from the mass consciousness so long as movies like the Demetri Martin comedy Taking Woodstock keep popping up every couple of years. Whatever the reason, Hollywood loves to put hippies in the movie spotlight. This list flashes the peace sign at the long-hairs, the idealists, and yes, the druggies, that have best exemplified the hippie spirit on the big screen.

10. Harvey Milk, Milk (2008)
Harvey Milk (Sean Penn) spends most of Gus Van Sant's biopic as a buttoned-up politician in late '70s San Fran, but earlier in the movie, he's a long-haired denizen of the city's gay subculture. It's only later that he pursues local politics (and better hygeine) by looking for a ways to promote change and expand social consciousness. Though his long locks don't last long, Penn squeaks onto the list for embodying the social ideals of a generation that cried out for change.

9. Jeff "The Dude" Lebowski, The Big Lebowski (1998)
The Dude's moment in the sun came during the '60s as a member of a radical anti-war group. Since then, he's been holding on to his hippie ways by smoking doobies, experiencing the occasional acid flashback, and spending a lot of time at the bowling alley. Jeff Bridges turns in a pitch-perfect performance as a hippie holdout unfazed by the passage of time and thoroughly committed to a mellow state of mind. The Dude abides at number nine. (His aspirations are low.)

8. Ron Slater, Dazed and Confused (1993)
The teens in Richard Linklater's ode to feckless youth live in 1976, but they're products of the hippie culture they grew up with. The perpetually wasted Ron Slater (Rory Cochrane) proudly advertises his favorite pastime by wearing a T-shirt displaying a huge marijuana leaf and keeping his eyes permanently at half mast. Whether he's dropping acid in a school hallway or ranting about George Washington, aliens and cults, Slater lives to tune in and turn on. "Oh, man, I'm f**cking wasted" is his mantra.

7. Raoul Duke, Fear and Loathing in Las Vegas (1998)
OK, Hunter S. Thompson is no hippie. Neither is his alter ego Raoul Duke (Johnny Depp) or sidekick, Dr. Gonzo (Benicio Del Toro). But there's a distinctly "turn on, tune in, drop out" vibe to the pair's druggie excess. Their adventures are a Technicolor warning against drugs, especially Duke's LSD hallucinations — most notably, hotel desk clerk as moray eel and bar patrons as orgiastic giant lizards. Depp's spot-on portrayal of the dark aftermath of the '60s nets him a seven.

6. Jenny Curran, Forrest Gump (1994)
While Forrest (Tom Hanks) is getting shot in the ass in Vietnam, his childhood sweetheart, Jenny (Robin Wright Penn), is living a politically-minded hippie lifestyle stateside. Forrest returns from duty and bumps into Jenny, decked out in full hippie regalia, at a rally in D.C. She's just another hippie harboring hope for a future without war, but she nails it: She even flashes the ubiquitous peace sign when she bids Forrest adieu. Jenny's good intentions earn her sixth place.

5. Penny Lane, Almost Famous (2000)
Kate Hudson earned an Oscar nomination for playing the proud leader of a band of groupies in Cameron Crowe's coming-of-age tale. Penny is dedicated to the boys in the band, especially the guitarist (Billy Crudup), but she's a free spirit straight out of the '60s playbook. While her romantic struggles with Hammond end in tragedy, she emerges stronger in the end, a feat which helps her crack the top five. You just can't keep a good hippie chick down.

4. Pamela Courson, The Doors (1991)
Oliver Stone's rock biography is all about egomaniacal Jim Morrison (Val Kilmer) but it's Meg Ryan who plays her part to the hilt. She's Morrison's girlfriend, a cute blonde hippie chick who moons over his poetry and loves him despite his self-destructive ways. Things get ugly down the road, but Ryan's Pamela — from the round, tinted sunglasses and peasant blouses to the flouncy skirts — nails the era's external signifiers to a T.

3. Mary Rose Foster, The Rose (1979)
In this musical drama, Bette Midler plays a self-destructive '60s rock star nicknamed The Rose, but as anyone with ears can tell, she's really just channeling Janis Joplin. Like Janis, The Rose is lonely, overworked, and struggling for acceptance and love. But, man can she belt out the tunes! Midler's concert sequences as Mary are pure magic, recreating the energy and electricity of the 1960's rock scene and landing her among the greatest entries on this list.


2. The Central Park Hippies, Hair (1979)
Hair celebrates the era through the eyes of an Oklahoma farm boy (John Savage), recently drafted to Vietnam, who befriends a group of hippies in NYC's Central Park. They're everything Claude is not — tripped out, raucous, and frequently nude. Hair paints this colorful troupe as a shaggy band of merry pranksters, but it also imbues them with humanity. For giving fringe and free love a good name, they come in second.

1. Peter Fonda, Easy Rider (1969)
No movie better captures the elusive dream of a new world order — and its eventual collapse. Captain America (Peter Fonda) and his pal Billy (Dennis Hopper) get their motors running on a cross-country motorcycle ride, a trip punctuated by encounters with personalities handpicked to comment on the era's competing ideologies. They turn a lawyer (Jack Nicholson) on to pot, witness the joys and hardships of communal living, suffer through a bad acid trip, and clash with squares in the South. Their efforts rev them right past the competition and into first place.

Read More