Cheryl Hines' Serious Moonlight Acquired by Magnolia Pictures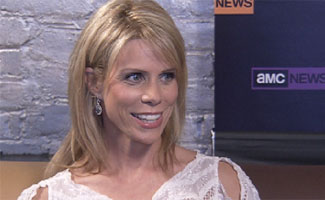 Magnolia Pictures has picked up Serious Moonlight for North American distribution. The movie, directed by first time feature director Cheryl Hines of Curb Your Enthusiasm, stars Meg Ryan and Timothy Hutton as a married couple on the cusp of divorce… and let's just say Ryan's character goes to serious lengths to keep her husband from leaving her.
The dark comedy was penned by the late actor/writer/director Adrienne Shelly who was murdered in 2006 in her Greenwich Village apartment. Shelly was best known for writing and directing 2007's Waitress, a movie in which she also co-starred with Hines and Keri Russell.
AMC News correspondent Jacob Soboroff caught up with Hines back in April during the Tribeca Film Festival where Serious Moonlight
had its world premiere. During the interview she spoke about how
nervous she was taking on her first feature directing role and how she
even texted famous directors she knew like Barry Sonnenfeld for advice.
For Hines, the risk was worth it because she wanted to faithfully bring
her late friend's script to life. Check out the interview here.
Magnolia plans to release Serious Moonlight in November on
its VOD network and then in movie theaters in December. In a press
release Magnolia president Eamonn Bowles said, "Cheryl Hines has done a
fine job bringing Adrienne Shelly's final script to life. Serious Moonlight is a fitting tribute to a sorely missed talent and we're happy to be bringing it to North American audiences."
The timing of the acquisition couldn't have been better: A memorial garden honoring Adrienne Shelly will be unveiled today in Greenwich Village's Abingdon Square Park.
Read More