Jonesing for Mid-Summer Police Procedurals? There's Always The Bone Collector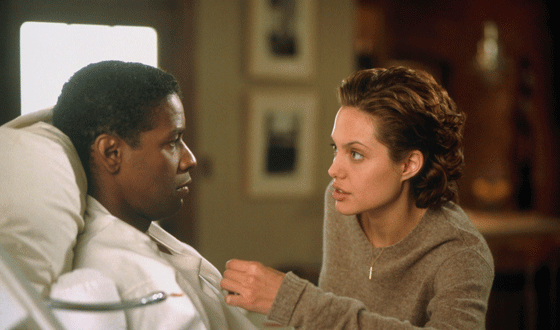 The relentlessly publicized examination of Michael Jackson's death this summer is only the latest example of the world's ravenous fascination with forensic science — particularly with the cold, antiseptic light it sheds on all the terrible ways to die. We are a country of rubberneckers, mesmerized by death and all the terrifying details that could potentially go along with it. For all our love of safe, clean, Will-Smith-saves-the-world fairy tales, we are also damn near obsessive about gritty police investigations. Alas, CSI, Law & Order, and all their unholy offspring are on hiatus, so what's a forensics junkie to do? Glad you asked.
If newly torturous ways to die, corpse mutilation, the stench of decay, and twisted killers strike your fancy, then please direct your attention to The Bone Collector, in which a fresh-faced Angelina Jolie stars opposite Denzel Washington in a police procedural that may not quite qualify as high art, but will satisfy all your forensic cravings nonetheless.
Set in 1999 Manhattan, The Bone
Collector tells the story of a recently paralyzed forensics
specialist, Lincoln Rhyme (Denzel Washington) and the reluctant rookie Amelia Donaghy (Angelina Jolie), who serves as his eyes and ears on a grisly serial-murder case.
But forget solving
the murders — it's getting there that's the point. Rhyme is our hero,
as he can always be trusted to discover some gory, twisted, disgusting,
head-spinning clues that exist in the realm beyond good taste. One
victim gets steamed to death in a Financial District
basement. Another is gutted alive and fed to New York's legendary rats. And the killer kindly leaves gnarly bone fragments to lead the
cops on a sick scavenger hunt.
The
year following The Bone Collector's release brought the event that
would change America's entertainment taste buds forever– a new flavor all
wrapped up in three little letters: C.S.I. What you see in The Bone
Collector is the same kind of dark forensic investigation genre that
would play out on our TV screen for the next ten years: Attractive
new-millennium youngsters in uniforms fighting their way up the
ranks; brutal crimes discovered by innocent kids under a bridge in
upper Manhattan; the glare of a flashlight's lonely beam; wet city
streets that reflect streetlights and the particular gore of that
week's episode. C.S.I. has garnered solid ratings
and two spinoffs, and America's appetite doesn't seem to be
waning: Season 10 was announced this spring and will start cranking out
episodes just weeks from now.
The Bone Collector, of course, has the forensic goods, and they're delivered by some of the biggest
names and most beautiful faces in Hollywood. Washington shines despite
the fact that he's bedridden, and it's fun to pay a visit to the Jolie
of old, unencumbered by Brad, babies and tabloids. But that's a gory
story all its own.
Click here for a full schedule of The Bone Collector showings on AMC.
Read More