Uncategorized
Flashback Five – John Hughes' Finest Movie Moments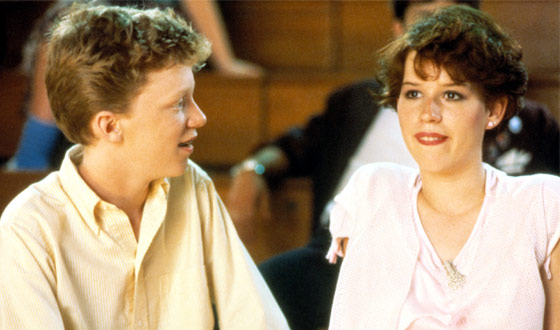 "Life moves pretty fast. If you don't stop and look around once in a while, you could miss it." – Ferris Bueller
John Hughes created the template for the Modern American Comedy. That may sound like a bold statement — after all, the filmmaker is best known for the teen flicks he churned out in the '80s — but it also happens to be true. The groundwork for many kinds of contemporary comedies was almost entirely set by one man, and that man was John Hughes, who tragically passed away yesterday of a heart attack at age 59. Though the man may be gone, his movies and his legacy live on. Here's a look back at some of his most beloved works. (Click here for more on his passing and to read some of his most memorable quotes.)
1. Home Alone (1990)
Is there any poster image quite so indelible as young Macaulay Culkin slapping his hands in horror on his face after applying aftershave? Is there any movie that so influenced every family comedy that has come after it for the past twenty years? Hughes set out to create a live action cartoon that managed to be innovative and creative, while still throwing back to the best of vaudeville. He even managed to throw real, honest emotion into the mix and keep Culkin's performance from going off the kid-actor deep end.
2. Ferris Bueller's Day Off (1986)
What many consider Hughes' masterpiece is a movie that has to be watched multiple times to be properly appreciated. Meanwhile, a generation of students just wanted to be half as smart, half as lovable, and even a quarter as popular as Ferris Bueller. The best part: He's no exclusionary, popular cool guy — anyone can hang with Ferris, so long as they're down to let loose. As a bonus, there may be no movie line so time-honored and culturally pervasive as Ben Stein's "Bueller…? Bueller….? Bueller….?"
3. The Breakfast Club (1985)
What
could have been a hefty dose of clichéd, after-school-special cheese
became a brilliant cry of rebellion for an entire generation. Not only
does this movie effectively portray every subsection of high school
life to a tee, it also captures the feeling of alienation inherent in
every single last person on earth. Also, the movie is deeply funny. And
it basically created the Brat Pack. And the idea of what a teen comedy
was, and still is, for the most part. So there's all of that.
4. Sixteen Candles (1984)
Many Hughes fans would put Pretty in Pink on this main list (don't worry, it's below) instead of Sixteen Candles. But Sixteen Candles is easily one of the funniest teen comedies ever made… And it's all thanks to Anthony Michael Hall. One year before The Breakfast Club,
Hughes found a way to make the nerd the ultimate hero. From the shot of
Hall trapped in a glass table, to his speech to Molly Ringwald in the
car, to triumphantly holding up her panties to a bathroom full of
cheering nerds, Hall's story is a classic Joseph Campbell-esque hero's
journey.
5. Vacation (1983)
This comedy gem was written by Hughes, based on a short (reportedly
true) story first published in National Lampoon's Magazine. And if
there are two movies National Lampoon is known for, it's Animal House,
and this Chevy Chase classic. Without the Vacation movies, we wouldn't have the (pardon
the pun) road map for almost every road trip comedy ever made. Nor
would we know how to do a proper gross-out comedy. And we certainly
wouldn't have Little Miss Sunshine, which is an almost shot for shot remake of the first Vacation movie. Seriously.
Honorable Mentions:
1. Planes, Trains and Automobiles (1987) –
Is there any more delightfully cathartic sequence in movie history than
Steve Martin dropping the f-bomb about 30 times in a minute when
trying to rent a car? Is there any better comeback than Edie McClurg's,
"You're f–ked"? Nope.
2. Some Kind of Wonderful (1987) – Only John Hughes could essentially remake Pretty in Pink with the genders reversed, and still have it work on its own as a hilarious, heart-wrenching teen comedy.
3. Pretty in Pink (1986) –
The world is divided into two types: Ducky people and Blane people.
Actually, three types: The third type is those who know Andie ends up
with Ducky in the real ending.
4. Weird Science (1985) –
Who hasn't thought about making their own perfect person? Not only did
John Hughes make it happen for two lucky nerds, he had them do it with
bras on their heads. Brilliant.
5. Mr. Mom (1983) –
In the first movie Hughes wrote directly for the screen, he took a
universal human premise (in this case, dealing with children), flipped
it on its ear, and created a movie that was elevated far beyond its
premise.

Read More