Uncategorized
Flashback Five – Which '80s Comedies Should Follow Heathers to the Small Screen?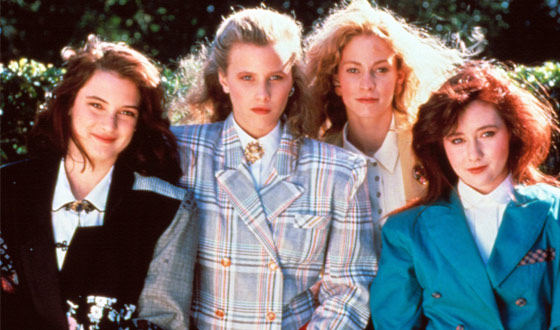 What's your damage, readers? That's right — everyone's favorite dark, pre-Columbine high school murder comedy, Heathers, is being developed for TV. They'll probably have to include a few more Heathers than usual to kill off a new one every week, and fingers are crossed for a Christian Slater cameo, but the announcement begs the question: What other '80s comedies are begging for the small screen treatment? Keeping in mind that Dirty Dancing, Look Who's Talking, Ferris Bueller's Day Off have already been done (seriously), here's a look at the top contenders.
1. Big (1988)
Tom Hanks started in television (Bosom Buddies), so it would only make sense to bring one of his iconic roles back to the boob tube. Mixing office comedy with teen hijinks and a modern sensibility would be a huge hit! Sure, a few iconic scenes could use updating… Maybe instead of dancing on a giant piano at FAO Schwartz, Josh Baskin (Adam Brody?) could, oh, what do kids like to do these days? Meet Miley Cyrus?
2. Crocodile Dundee (1988)
Both the original hit movie starring Paul Hogan and its sequel are ripe for adaptation. The first finds fish out of water Dundee wandering the streets of New York, and in the second, his wife is kidnapped and taken to the Australian outback. Plug Bear Grylls into the title role, have him travel the world saving friends who've been kidnapped and taken to the other side of the world, and voila. Think of the jetlag jokes to be made!
3. 3 Men and a Baby (1987)
The biggest box office hit of 1987 is essentially a sitcom in
movie form. Find three comedians — Kevin James, Dane Cook, and Demetri
Martin, perhaps? — to play the bachelors, a talented baby actor
playing an orphan left on their doorstep, and you could run this thing
for decades, no joke.
4. Good Morning, Vietnam (1987
There hasn't been a TV comedy about war since M.A.S.H. left the air. In fact, Good Morning Vietnam itself started out as a sitcom pitch that was rejected because M.A.S.H. was so fresh in the nation's mind. Get Jeremy Piven to fill the Robin Williams role in his off months from Entourage,
have each episode deal with the minutiae of the Vietnam War (a metaphor,
or course, for the Iraq War), and you've got a hit on your hands.
5. The Secret of My Succe$s (1987)
With financial collapse all over the news, what better time to revisit
this classic Michael J. Fox comedy? The story of a country boy trying
to fit in to the high-stakes Wall Street world would have extra
resonance today. And you have the classic love triangle set-up going
on, which is perfect for an hour-long comedy drama, a la Ugly Betty.
It would be tough to find a comedian as gifted as Michael J. Fox, but
since when does the industry care about such things?
Honorable Mentions:
1. Coming to America (1988) – [Insert
whichever Wayans Brother is available] stars as Prince Akeem, who
naively deals with life in modern New York as he searches for a wife!
2. Twins (1988) – If identical cousins worked for The Patty Duke Show, why not a sitcom based on the Arnold Schwarzenegger/Danny DeVito vehicle?
3. Back to School (1986) – There's
so much that can be updated with the idea of an older, rich guy (Rodney
Dangerfield) heading to college. How would he deal with the Internet?
That's like 30 episodes right there!
4. Gremlins (1984) – Ignoring the continuity established in the clearly non-canon Gremlins 2,
Billy and Gizmo hit the road, traveling from town to town killing
gremlins and solving mysteries. Every episode, a new character's father
gets caught in a chimney on Christmas.
5. Risky Business (1983) – In a weekly format, you could really explore the intricacies of what its like to run a brothel in suburbia, right? Like Weeds, but for prostitution. Actually, that's not half bad. Greenlight!

Read More