Web Stalker – Sam Raimi Signs Up for World of Warcraft Flick and Fans Say… WoW!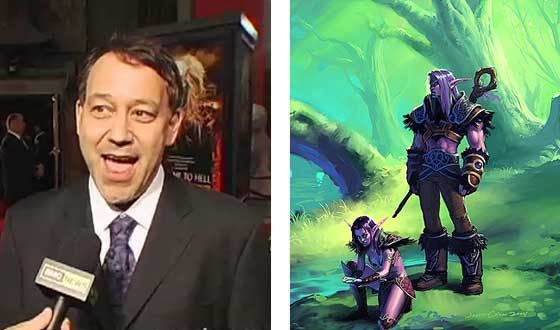 World of Warcraft Flick and Fans Say… WoW!" width="560″/>

Clothies and healbots unite! Shortly after the massively popular World of Warcraft online role-playing game earned a spot in the Guiness Book of World Records by virtue of its record-shattering 1.3 million subscribers, Blizzard Entertainment announced a director for its long-buzzed-about big-screen adaptation, Warcraft. And what director could possibly step up to the plate for a project of such vital cultural important, you ask? Why, none other than Sam Raimi, of The Evil Dead, Drag Me to Hell and… oh, alright, Spider-Man, fame! As things stand now, he'll start work as soon as he wraps Spider-Man 4 next year. And how are fantasy-world fans taking this double whammy of real-life attention?
AintItCoolNews broke the story, excitedly announcing: "Sam is going to make a huge budget fantasy bit of unf***ingimaginable coolness — and it will be yanked from the World of Warcraft!" Response from other bloggers was swift and fever-pitched, with gamers and movie buffs alike offering their takes on the news faster than you could scream "Leeroy Jenkins" (look it up).
Could the massively positive gamer reaction have anything to do with the simple fact that reviled director Uwe Boll won't be involved? (He threw his hat in the ring last year only to be summarily dismissed by the game's creators.) Perhaps!
FirstShowing's Alex Billington called the pick "great news," going on to enthuse, "Legendary's Thomas Tull said they were 'looking for someone of Za[ch] Snyder (300) or Chris Nolan (The Dark Knight) calibre.' Looks like they found him!" FirstShowing concurred: In a post titled "What?! Sam Raimi to Direct 'World of Warcraft'?!," blogger Monika Bartyzel announces that Raimi's participation has launched the project's potential "into a whole different universe."
"What's amazing about Raimi is his ability to spin Awesome out of nothing," agrees MTV's Movies Blog, though not before pointing out that movies based on video games aren't generally the stuff of which great cinema is made. Still, the blogger concludes, "Here we have a fanbase large enough — and rabid enough — to practically guarantee a top o' the box office opening weekend."
If online buzz is any indication, truer words have never been spoken. Though Members of the World of Warcraft Facebook page and posters to the movie's IMDB board are too busy linking to fan-made videos and searching for "single female WoW players" to waste much time on the news, discussion is surging on Warcraft-dedicated sites. The hordes at the World of Warcraft forums — not generally the sort to leave their avatars unattended for long — are in an absolute state, envisioning record-shattering box office and an invasion of "fat sweaty neckbeards dressed up like orcs." Ouch! There are plenty of comments in the "Best. News. Ever!" vein, with one forum lurker going so far as to say, "I fully expect this movie to cause a New World Order based on every single man woman and child playing World of Warcraft all the time." Joking, right?
That's just a sampling, but trust Web Stalker — there are thousands more comments just like them. America, you've been warned: You're going to be hearing as much about Warcraft as you already are about Twilight. And if ever the two fan bases collide, the very earth will tremble!
Read More