Web Stalker – How Cool Are Zach Galifianakis and Jack Black As Man-Witches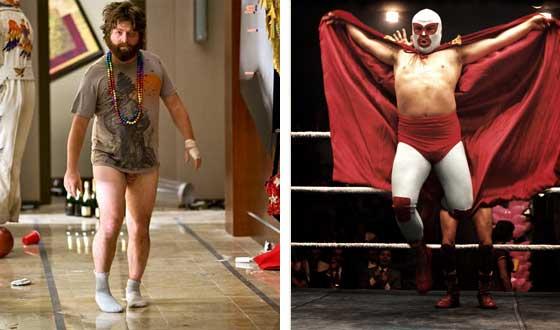 Man-Witches" width="560″/>
This is truly the dawning of the Age of Galifianakis! Thanks to The Hangover's smash success, the cult comedian has exploded into the mainstream, and his name is suddenly connected to a veritable flood of starring roles. They include the horror-comedy Man-Witch, in which a teacher signs up with an all-girl academy for witches after he discovers he has supernatural powers. Cue the lewd shenanigans.
Is this the kind of role a newly-famous Hollywood outsider should choose as his first post-fame selection? It was good enough for Jack Black, who signed on for the project last year and then abandoned it, reportedly because of conflicts between the then-director — The Hangover's Todd Phillips — and Black's management team.
Phillips subsequently left Man-Witch to direct the road-trip comedy Due Date, and Galifianakis is committed to one of the leads, as well as to the inevitable Hangover sequel. But Galifianakis is still being courted for Man-Witch and his name has has also been linked to another fish-out-of-water tale, Say Uncle. Oh, to be hot, hot, hot! What says the Internet about the possibilities?
EW's Popwatch was so fired up about the thought of Man-Witch, it asked readers to choose Galifianakis' next role with a poll, saying, "[its] awesomely bad title immediately draws me in (like Hot Tub Time Machine). It could either be a funny 90 minutes or a Rob Schneider film. I really don't think he should do it, and yet, I totally want him to…. Your call." At present, Man-Witch is the runaway reader favorite, with 37 percent of the vote.
Other movie obsessives took time from their busy screening schedules to beg Galifianakis to choose his next move carefully. Critic Marshall Fine crafted an entire Huffington Post article in the form of an open letter beseeching the actor not to "blow it by letting some agent or manager try to turn you into a comedy commodity." CinemaBlend was similarly worried, writing, "We like you, Galifianakis, but if you start selling out…the honeymoon may end quickly."
For the most part, movie bloggers were positive on the Man-Witch prospect. DreadCentral reported the news of Galifianakis' possible participation with the excited line, "Just think of the prospects, man!" Meanwhile, over at Slashfilm, Russ Fischer weighed the pros and cons: "Man-Witch sounded awful when it came up as a possible project for Black last year… [but] could be a suitable channel for the persona that Galifianakis crafted in his stand-up routines over the last few years. Or it could just become a broad, silly waste of time." Of course, that latter part was predicated on Phillips being part of the package.
The verdict's still out, but it's clear that if Galifianakis does end up doing the movie, it would place the horror-comedy squarely on mainstream radars. As the MTV Movies Blog pointed out (in a post titled Twilight Star Taylor Lautner the Nottie to Hangover Star Zach Galifianakis' Hottie), the portly comedian recently beat out Lautner, Johnny Depp and Christian Bale as Hollywood's sixth most popular star. Not bad for a pushing-40 schlub whose pre-Hangover claim to fame was a deeply uncomfortable online talk show on which his co-hosts are a pair of potted ferns.
Alas, it looks as though we may have to wait for Man-Witch. With the Hangover-esque Due Date scheduled to start production in early October 2009 and the Hangover sequel tentatively set to begin shooting in early 2010 (so sayeth The Playlist), it's Man-Witch that's squished in the middle.
Is Galifiankis making all the right moves, or has he taken one-step closer to being typecast as that bearded Hangover weirdo for the rest of his onscreen life? Either way, a nation of witches mourns the loss.
Read More