True Bromance – The Top Ten Western Duos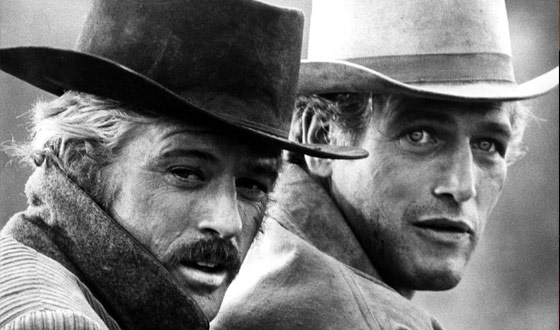 From Lonesome Dove to Rio Bravo, male bonding was ubiquitous in the Wild West long before Judd Apatow arrived on the mainstream movie scene. With women a precious commodity, the plains can be a lonely place — so camaraderie with your fellow cowpoke is a welcome antidote. These Westerns may not exactly play like Sex and the City in spurs, but look closely and you'll spot the distinctly strong threads of manly friendship. Read on for a list of the top ten bromances in Western history.
10. Tyrone Power and Henry Fonda, Jesse James (1939)
Blood is thicker than water. That cliché is proven true in Jesse (Tyrone Power) and Frank James (Henry Fonda), who here team up to masterfully convey the forceful bond between a pair of brothers allied in a life of crime. And when Jesse gets shot in the back by that coward Robert Ford, their bond proves so strong that Frank will spend an entire sequel, The Return of Frank James, avenging his death, landing the original movie at the bottom of this list.
9. Johnny Depp and Gary Farmer, Dead Man (1995)
What's an out-of-place accountant to do in the Wild West but join forces with someone as lost as he is? When Johnny Depp's William Blake goes on the run after shooting a man, he finds a kindred spirit in an Indian named Nobody (Farmer) whose warm spirituality plays perfectly against Depp's natural charms. (So does the fact that he's constantly quoting the poems of William Blake. What are friends for?)
8. Paul Newman and Colin Keith-Johnston, The Left-Handed Gun (1958)
Gore Vidal made Billy the Kid gay. That's the simplest explanation for the Ben Hur-ish
subtext of this revisionist take on the Lincoln County Wars, at least. While
looking for work, the Kid (Newman) falls into a subtly expressed relationship with a rancher who he falls in… close companionship with, years before Brokeback Mountain made things more explicit. Eat your heart out, Ang Lee.
7. Jackie Chan and Owen Wilson, Shanghai Noon (2000)
While cultural differences, opposing views on life, and contrasting comic
styles can be sources of tension, what's a buddy movie without a little
fabled frisson? And so a beautiful partnership is formed when a Chinese Imperial Guard (Chan) journeys to the Old West, and comes to rely on the know-how of a train robber (Wilson) for survival and witty asides. The pair's easy banter lands them near the middle of the list.
6. Kris Kristofferson and James Coburn, Pat Garrett & Billy the Kid (1973)
"Billy, don't it make ya feel so low-down/To be shot down by the
man who was your friend?" Thus spake Bob Dylan in this movie's title song, hinting that friendship can have a dark flip side. In this Sam Peckinpah flick, the director brings out the best in both stars as they play Pat Garrett (Coburn) and Billy the Kid (Kristofferson), playing off each other perfectly as two parts of the same soul — much like William Holden and Robert Ryan's characters in The Wild Bunch — alike in many ways, but forced to be on opposite sides of the law.
5. Clint Eastwood and Morgan Freeman, Unforgiven
(1992)
Ned Logan (Freeman) knew William Munny (Eastwood) when he was bad — real bad. Once a man who'd kill at the drop of a hat, Munny's now a reformed man. Yet one gets the sense that their friendship relies on that common darkness, those shared years of violence — regrets no one else could understand. Acting greats Freeman and Eastwood project this common understanding and world-weary vibe with ease, clinching it for number five.
4. John Wayne and Dean Martin, Rio Bravo (1959)
The crucial onscreen relationship in Howard Hawks' retort to High Noon is between Sheriff John T. Chance (Wayne) and the former deputy Dude (Martin), who he's trying to rescue from a life of drinking and plucking silver dollars out of spittoons. Martin, who wasn't considered much of an actor at the time he was cast, goes all out in the role. He earned the respect of Wayne, with whom he became lifelong friends, and it shows through onscreen. Chance's (and Martin's) dedication brings this movie into fourth place.
3. Paul Newman and Robert Redford, Butch Cassidy and Sundance Kid (1969)Pardners in crime Butch Cassidy (Newman) and the Sundance Kid (Redford) may squabble over the same girl — only one can ride with her on a bicycle built for one while the forcefully un-period "Rain Drops Keep Falling on My Head" patters across the soundtrack. But are there hard feelings? Nah. Romance is only a temporary distraction when it's clear they can have any woman they want. After all, the movie's greatest spectacle isn't its gunfights but the dueling charisma of Hollywood's biggest pair of pretty-boys in their prime. Which is why it goes out in a blaze of glory at third.
2. Kurt Russell and Val Kilmer, Tombstone (1993)
When famed lawman Wyatt Earp (Russell) retires his tin star, who does he come across but his old
anemic cohort Doc Holliday (Kilmer) at the local
saloon? When things turn foul, Earp can always count on Holliday for
some good humor and a little extra firepower. Interestingly, the amity
extended off-screen, where Russell did his bro a solid: He cut his own scenes when the production ran over budget in favor of those featuring Kilmer and the rest of his lawmen.
1. Robert Duvall and Tommy Lee Jones, Lonesome Dove (1989)
Perfectly cast as the taciturn Gus and Woodrow, Duvall and Jones rub each other the wrong way through all of Lonesome Dove's
four parts. But at the center of their odyssey to Montana is the
close relationship between the two ornery, former Texas Rangers. Sure,
they bristle at each other on the surface, but still waters run deep —
as we learn with the epic's (sniffle) ending that turns on the
waterworks and earns them first place.
Click here for a full schedule of Butch Cassidy and the Sundance Kid on AMC.

Read More