Top Five Geektastic Moments From Comic-Con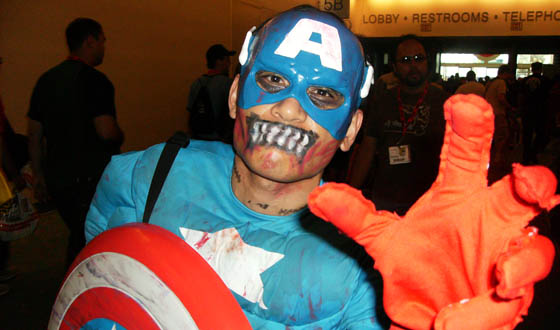 Some people call Comic-Con the "Nerd Prom" or the "Big Show." I like to call it the "Nerd Canterbury Tales." For one thing, the daily walk from the hotel to the convention center feels like a pilgrimage of sorts. For another, as in Geoffrey Chaucer's famous book, you're likely to walk into someone decked out in medieval finery during the trek. Of course, you're also liable to bump into a hairy dude wearing the "Slave Leia" metal bikini from Return of the Jedi. Here are the five best, weirdest, most "Comic-Con-y" moments from this year's pilgrimage.
5. Grr! Arrgh! Zombie Captain America Feasts on Geek Brains
OK, this would be a lot weirder if there weren't already such a thing as a Zombie Captain America. Which there is. In fact, if you read the awesomely spooky Marvel Comics title Marvel Zombies, you know that there's a zombie version of every Marvel superhero. But still, having a guy dressed as Zombie Captain America moaning disturbingly as you take pictures of him is… unsettling. And strangely, makes you a bit hungry for Reeeed Skuuuullll!
4. Personal Space Invader
As part of the SDCC programming on Friday July 24, Entertainment Weekly hosted a panel discussion between visionary directors James Cameron and Peter Jackson. All was going swimmingly until a dude dressed in a cheesy spaceman costume — and wielding a giant homemade ray gun — climbed up onstage and poured himself a glass of water. He was then escorted offstage by security. How did he make it up there in the first place? No idea. Was it all part of the show? No idea. Is this the sort of thing that makes the annual journey to San Diego totally worth it? Hells yes.
3. Gender Bending Rocks
Many, many examples of gender-bending at this year's Comic-Con. Sadly, no hairy guy dressed in a Slave Leia outfit. However, seemingly to make up for this oversight, the geek gods threw me a bone: A hairy, obese guy clad in a wedding dress. And not all the gender-bending was done by the fellas; there was also a female Speed Racer. (Speedette Racer? Speedina?) Here she is holding a copy of the trade paperback of Speed Racer: Chronicles of the Racer (a comics miniseries written by yours truly). Go Speedette Go!
2. There's No Crying at Comic-Con
Apparently, Comic-Con folk love the 1992 Tom Hanks vehicle A League of Their Own. How else to explain the fact that various attendees were more than happy to spoof the line, "There's no crying in baseball!" by chirping, "There's no crying at Comic-Con!" whenever anyone got choked up. Some latter-day Moliere shouted it out at the Terry Gilliam panel when an audience member got misty-eyed reminiscing about the late Heath Ledger. Later, an Algonquin Round Table wannabe yelled out the phrase when an overworked dealer was scurrying to dismantle his booth at the end of the day. People love to quote this line. But while there may be no crying at Comic-Con, there are quite a few insensitive dolts.
1. Bizarre Inflatable Spheres to the Rescue
When you've been patiently waiting in line for two solid hours to check out some footage from the new Peter Jackson-produced scifi flick District 9, you're bound to be bored, frustrated and groggy. Hell, that's practically the motto of Comic-Con. But then a bunch of inflatable balls magically appear before the long line of attendees. Designed to promote Mindflex, a Mattel-produced game that uses the player's brain waves to levitate a foam ball through an obstacle course, the white spheres immediately brightened the mood of the queue: People started playing volleyball with them, and suddenly waiting in line doesn't seem so bad! Next year, however, I think the spheres should behave more like Rover.
Read More