They're Fighters, Not Lovers – Why Sly, Arnold, and Vin Should Stick to Action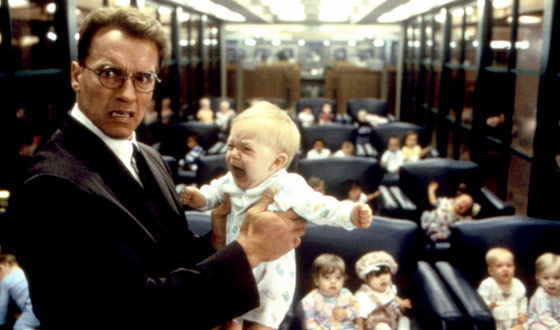 It's a beautiful sight when tough guys like Schwarzenegger and Stallone are at their peak, muscles oiled and sweat flying as they wreak havoc on their foes. But there seems to come a point in many movie bruisers' careers when they feel the need to show their softer sides by starring in family-friendly fluff like Kindergarten Cop. Sure, it's funny to see your favorite head-crusher trying to tame a class full of snot-nosed kids, but it tends to get old pretty fast. Which tough guys quickly rebounded and dropkicked their reputations back into shape, and which just handed over their cojones with a whimper? Judge for yourself…

Arnold Schwarzenegger
It's a testament to the incoherent Austrian's strength as an actor that he could go from Total Recall to Kindergarten Cop and then straight into Terminator 2: Judgment Day without skipping a beat. After that his ratio of awesome action flicks to cringe-worthy kid movies evened out though — for every True Lies there was a Jingle All the Way (fighting soccer moms for a coveted toy) and a Junior (Arnold gets pregnant) waiting. His latest undignified role? 'Sven the Governator' in Cars.
Chuck Norris
Chuck Norris took top billing in 1992's Sidekicks, a movie where he was paired up with an asthmatic kid with hallucinations of being Chuck Norris's sidekick. That one allowed him to maintain some cred thanks to its underlying assumption that kids everywhere still worshipped the ground he walked on. But Top Dog? The tagline for the movie was "One's tough… One's smart… Together they unleash explosive action!" Wait, which one is which?

Dwayne Johnson
Dwayne "The Rock" Johnson blasted onto the big screen playing a hit man in Be Cool and a take-charge commander in Doom. But what happens when an ex-wrestler stops getting such sweet offers? He takes roles in movies like The Game Plan, starring opposite a nine-year-old, and Race to Witch Mountain co-starring with supernatural teens. Dwayne… The former WWE superstar in you kindly asks that you aim a bit higher.

Hulk Hogan
In his heyday, the Hulkster was an even bigger wrestling star than The
Rock, so it was no stretch for him to play an overly aggressive boxer
named Thunderlips in Rocky III. But after that his big screen career took a major turn for the silly. Notably awful movies that followed included Mr. Nanny, Suburban Commando, and Santa With Muscles. The titles speak for themselves.

Sean Connery
Who would have thought that one of the slickest 007s ever would one day provide the voice for a kindly talking dragon in Dragonheart? Thankfully Connery bookended his short-lived fantasy stint with turns as King Arthur in First Knight and the most badass aging criminal ever in The Rock. Luckily, after a disastrous attempt at comedy with The League of Extraordinary Gentlemen he retired from filmmaking and hasn't looked back since.

Steven Seagal
After
Seagal's movie career petered out in the early 2000s, he chose to
re-enter the workforce as a mockery of himself called Cock Puncher who
fights store mannequins in 2008's The Onion Movie. Seagal's
future on the silver screen remains to be seen, although fans will be
relieved by his recent role as an ex-Russian mobster in Driven to Kill. Fingers crossed that this fighter knows when it's time to step out of the ring.

Sylvester Stallone
Stallone's performance in Stop or My Mom Will Shoot made many people ask why mom didn't just pull the trigger. The man who brought down the mob in Cop Land was reduced to making butt jokes in Antz the following year and went on to play a parody of himself as the villain in Spy Kids 3-D: Game Over. Since then, Stallone has been working hard to redeem himself by resurrecting the Rocky and Rambo franchises, and things are looking up.

Vin Diesel
Vin Diesel had a surprising number of honest-to-goodness acting roles in his back pocket when he made The Pacifier (Boiler Room, Pitch Black and xXx
to name a few), which only makes the choice all the more baffling.
Perhaps he was trying to score points with the coveted ten-year-old
girl demographic? Thankfully, he has since been reestablishing his tough guy appeal with sequels to the movies that made
him famous to begin with. Smart move, Vin.

Wesley Snipes
The actor best known as Demolition Man is famous for playing hard,
sharp, deadly killers. Imagine the world's surprise when he emerged on
the screen decked out in women's clothing in To Wong Foo Thanks For Everything, Julie Newmar. It was a big departure from Snipes' Passenger 57
days, but within three years he had recaptured audiences and
masculinity alike and established himself as vampire hunter Blade. The
tough-guy roles he's taken on since have left no doubt that the
silliness is a thing of the past.

Read More