The Comeback Kids – The '90s Westerns That Made Movie History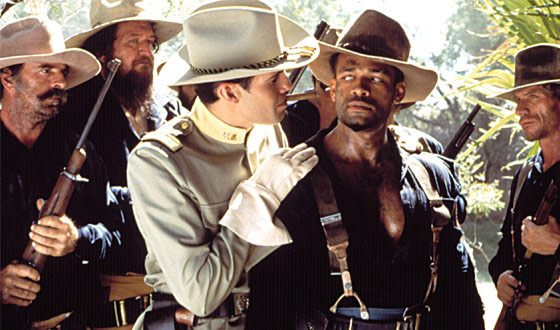 While most movie fans were distracted by Reality Bites and Titanic, Western stars were quietly reclaiming their place in American cinema. Any Western fan will tell you that Michael Cimino sunk the genre in 1980 with his overwrought, under-attended flop Heaven's Gate. After that jaw-dropping failure, production of Westerns slowed to a trickle and cowboys seemed relegated to reruns of Gunsmoke. But lo and behind! The '90s brought about a major Western resurgence that put cowboys back on marquees. Of course, not all of them belonged there. (Here's looking at you, Will Smith.) Which '90s Westerns should you add to your must-see list?
Dead Man (1995)
This is probably the most unique Western to come around during the
'90s, and certainly the trippiest. A coup was snagging Robert Mitchum
as the corrupt company boss of the town of Machine. Mitchum both
dignifies the movie with his presence, and makes it that much odder.
Director Jim Jarmusch reimagines the Western to his own quirky, aloof
specifications, something instantly apparent from the movie's opening
train-ride sequence.
Wyatt Earp (1994)
Unfortunately,
Lawrence Kasdan's take on the Earp story, starring Kevin Costner as the
lawman, doesn't fare quite as well as its kissing cousin, Tombstone (in which Costner was originally slated to star). It's not a bad movie
per se, but the sheer amount of material it crams in causes it to lose
steam well before the credits roll. Still, those vast landscapes make
up for some of the movie's slack — they even earned the movie a Best
Cinematography nod at the Oscars that year.
Tombstone (1993)
You'd think the Gunfight at the O.K. Corral had been wrung dry long
before 1993, but this take on the event, with Kurt Russell as a fierce
Wyatt Earp, breathes new life into the genre. In fact, it might just be
the best version of the story ever committed to film — beating out
such stalwarts as My Darling Clementine and Gunfight at the O.K. Corral. Val Kilmer's turn as a one-liner-spitting Doc Holliday is one of the actor's best performances.
Posse (1993)
Mario
van Peebles's restless camera and disorienting editing makes for a
decidely weird movie experience — even more so than the sight of
rapper Big Daddy Kane in cowboy boots and spurs. Nevertheless, Posse's
tale of black cowboys is an appealing corrective to the conventional
all-white Western ethos, even if it didn't exactly amount to crossover
success.
Unforgiven (1992)
Clint
Eastwood's grim gunfighter tale turns the conventional ingredients of
the Western into the stuff of Greek tragedy, and its explorations of
violence, myth, and regret were territory that Eastwood would continue
to probe in Mystic River and Flags of our Fathers. And
while some reviewers at the time stated that it seemed to close the
book on the Western, in reality it opened up a whole new frontier of
possibilities.
City Slickers (1991)
The
Wild West is a place brimming with machismo and unspoken rules, so
there's great potential for fish-out-of-water comedy. In this laugher,
Jack
Palance's rugged trail boss makes a perfect foil for Billy Crystal's
acerbic smart-ass. But the movie's well-developed characters, and a
great supporting class that included Daniel Stern and Bruno Kirby, make
it much more than just a collection of silly gags.
Quigley Down Under (1990)
Another way to reinvigorate the Western, of course, is to change what
makes it familiar — including the setting. Here, Tom Selleck plays a
bad-ass American who goes to the Australian outback where he goes up
against aborigine-killing sadist (Alan Rickman). And, instead of
carrying a six-shooter, he totes an elephant gun with gigantic bullets
that any child of the '90s would covet.
Dances with Wolves (1990)
Movie buffs may cry treason at Kevin Costner's epic beating out Goodfellas for Best Picture at the Oscars; but prestige pics beating out masterpieces is what the Academy Awards do best. And, yes, Dances
helped usher in the era of three-hour event movies. But all things
considered, it won its golden statue for a reason: Great storytelling
that meshes a romantic view of the West with a modern sensibility.
(Just don't mention it in the same breath as The Postman…)
Click here for a full schedule of Posse on AMC.

Read More