Stacie Ponder – A Primer to the Best of Hammer Horror Movies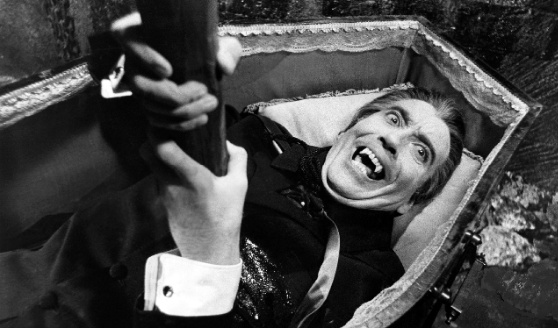 If you ask me, weekends were made for Hammer horror movies. Lazy, Sunday-afternoon air cries out for a gothic-flavored Dracula flick; lying on the couch and watching Christopher Lee and Peter Cushing battle it out while a busty broad in a flouncy top and a tight corset cowers in some castle corner, screaming, well… that's the good life, my friends.
The veteran English production company offered more than their famous Dracula movies: The Hammer House of Horror, which produced some of the most stylish movies the genre has ever seen, took some curious side trips no real horror fan will want to miss. Here are five to start you off…
The Karnstein Trilogy (1970-72)
OK, fine — putting three movies into one entry ups the list total to seven. But hey, I blog about horror movies, not math, and the rule of thumb about lesbian vampires is that if mentioning them is an option, it's a must. Loosely based on J. Sheridan Le Fanu's novella Carmilla, the trilogy comprises The Vampire Lovers (starring cult- fave actress Ingrid Pitt), Lust for a Vampire and Twins of Evil, and marked Hammer's first foray into the seriously sexy side of gothic horror.
Dracula: Prince of Darkness (1966)
No other Hammer Dracula flick can match the vivid imagery in this effort helmed by director Terence Fisher. The blood ritual that resurrects the count and the vampire-under-ice finale are as spooky as they are lush; and when you add a brooding Christopher Lee and fan favorite Barbara Shelley (playing a prim wife-turned-vampire wanton) into the mix, this Prince takes the crown.
The Gorgon (1964)
Hey ladies, you know how we have a tendency to turn into real jerks once a month? Well, here's news that should make you feel better the next time you're flying off the handle one minute and sobbing into a bowl of ice cream the next: It could be worse. You could be a gorgon, a lovely lass who, when the moon is full, turns into a snake-haired beast whose gaze turns all who chance to look upon her hideousness into stone. Puts the cramps and mood swings into perspective, doesn't it?
The Abominable Snowman (1957)
This atmospheric chiller, written by the acclaimed Nigel Neale, may lack the vibrant colors for which Hammer was famous, but its stark B&W cinematography only enhances the eerie desolation of the story's snowy Himalayan setting. A brash American adventurer (Forrest Tucker) persuades botanist John Rollason (Peter Cushing) to lead an expedition into the frigid mountains in search of a real, live yeti and, as you might expect, things go horribly awry. Isn't that always the way?
The Devil Rides Out (1968)
Even if this atmospheric "Hammer Does Satanism" flick were a world-class fiasco, it would be worth watching to see Christopher Lee as the virile hero rather than the rakish villain. That role goes to Charles Gray, who plays the sleek Satanist Mocata; if he looks familiar, it's probably because you've seen him as The Rocky Horror Picture Show's narrator. Lee himself lobbied Hammer to produce this adaptation of the novel by Dennis Wheatley, the Stephen King of his day. It's a little more low key than the Hammer norm, yet as chilling — and occasionally cheesy — as you'd expect.
Fans of Hammer are a lucky lot; the prolific studio churned out quality movies in virtually every subgenre of horror. No matter what your bag, there's a Hammer flick just for you. Dig mummies? Look no further than The Mummy (1959). Frankenstein lovers in search of something a little different will find it in Frankenstein Created Woman (1967). Scifi fans regularly cite 1967's Quatermass and the Pit (scripted by Nigel Neale, like The Abominable Snowman) as one of the genre's finest offerings, while The Reptile (1966) is a good, old-fashioned creature feature. Hey, why wait for the weekend? Every day should be a Hammer day.

A fan of horror movies and scary stuff, Stacie Ponder started her blog Final Girl so she'd have a platform from which she could tell everyone that, say, Friday the 13th, Part 2 rules. She leads a glamorous life, walking on the razor's edge of danger and intrigue.
Read More