Oops, They Did It Again – Hayden Panettiere Joins the Gratuitous-Nudity Club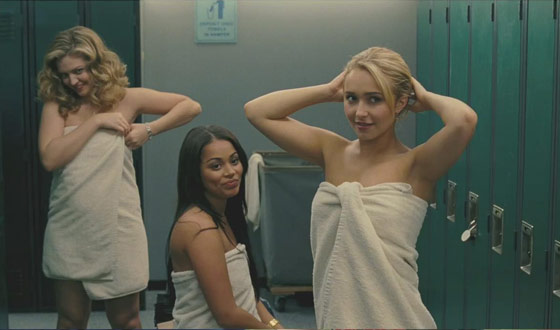 Since the trailer hit the Internet, people have been wondering how much skin Heroes talent Hayden Panettiere would be showing in I Love You, Beth Cooper. (Here's a hint: it's rated PG-13.) We have nothing against exposed nipples and rear ends, but every once in a while directors need to be called out for their lazy use of nudity to keep viewers' attentions. Read on for a list of the most egregious examples of gratuitous nudity ever captured on film. These are just the tip of the iceberg. Can you think of any more?
Jason Segel, Forgetting Sarah Marshall (2008)
Did Segel have to go full monty for his scene opposite Sarah (Kristen Bell) at movie's beginning, in which his devastated character is confronted fresh out of the shower by the girlfriend who's about to break his heart? OK, it's hilarious. But it's also engineered to be icky — particularly when he tries to entice the clearly uninterested Sarah by making his member dance. (And yes, there are sound effects. Of course.)
Daniel Craig, Casino Royale (2006)
Very few people complained when the impossibly buff Craig shed his clothes for an interrogation scene in this James Bond flick. While a naked-torture sequence might not be the stuff of which fanboy fantasies are made, it's still a nice chance for Craig to show off his manly assets. Was the nudity necessary? Of course not! Surprisingly enough, Craig's co-star Eva Green managed to avoid baring her bits as a Bond girl — no mean feat.
Halle Berry, Swordfish (2001)
Usually actresses come up with coy excuses for why they went nude in a particular role. Not Berry: She explained her decision to bare it all as a way of conquering her fears about how it would affect her image. More power to her! If only she'd trusted her assets with a more competent team — this John Travolta action flick was a dud on just about every conceivable level, including the way Berry's nude scene gets plunked into the plot for no discernible reason.
Kevin Bacon, Footloose (1984)
OK, so whether Bacon is actually nude in this movie's shower scene is impossible to tell, but he's certainly surrounded by a surfeit of male posteriors. Why on earth such exhibitionism was necessary in a teen movie about a bunch of Christian kids who just want to dance is anyone's guess. Perhaps the director, Herbert Ross, was trying to make an artistic statement about the suppression of natural life in movies? Doubtful.
Jamie Lee Curtis, Trading Places (1983)
Sure, her character in this comedy is a jailed prostitute who teams up with the desperate Winthrop (Dan Aykroyd) in an effort to improve her lot in life. It still doesn't exactly follow that she would need to go topless to do so. Nonetheless, topless she goes! In this particular case, there may have been personal preference involved: The actress also appeared sans shirt at the age of 50 for an issue of AARP The Magazine.
Linnea Quigley, The Return of the Living Dead(1985)
It's hardly unusual nowadays for women in peril to randomly shed their clothes in schlocky horror movies, nor was it back in the '80s, when this zombie flick came out. But the notion of a slasher heroine deciding to do a striptease in a graveyard in the middle of a party full of punk-rockers surely puts this movie in a gratuituous-nudity class of its own. Of course, Quigley went on to score plum screen-queen roles in the decade that followed, so more than a few people were fans of her nude debut.
Sissy Spacek, Carrie (1976)
Before things go awry — in the form of Carrie receiving her monthly visitor for the first time and getting pelted with tampons by the ruthless mean girls in her class — this Brian De Palma classic sets the scene for the coming horror via a super-slow-mo, soft-lit scene in which a bevy of beauties go full frontal in a locker room. Which would be all well and good, if not for the fact that they were supposed to be teenage girls at the time.
Britt Ekland, The Wicker Man (1974)
Though Swedish actress Ekland did appear topless as a pagan seductress in this supernatural movie's weird dance-musical scene, the filmmakers actually used a shapely body double for all of the more revealing shots. Her fellow actresses did everything from sobbing (naked) in graveyards to leaping (naked) over bonfires in order to try to get pregnant. This one's a veritable gratuitous-nudity bonanza!
Have a favorite gratuitous nudity scene?

Read More