Now or Then – Orphan or The Omen?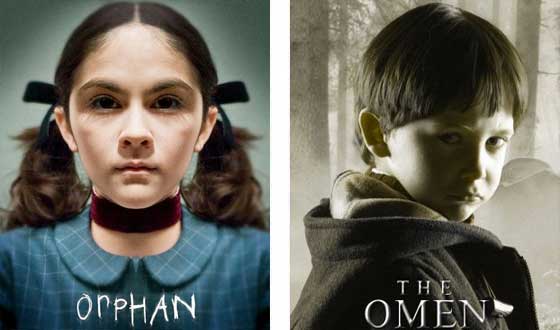 Orphan or The Omen?" width="560″/>
Now: Orphan (2009)Then: The Omen (2006)
Seriously, watch enough horror movies these days and you may never want to have children, like, ever. In Jaume Collet-Serra's chiller Orphan, a young girl is adopted into an affluent family and starts to have…well, let's just call them adjustment issues. It's just the latest in a long string of movies about creepy kids terrorizing their parents. The 2006 remake of The Omen (based on the 1976 horror
classic), gave us another affluent couple dumbfounded and haunted by their
offspring's evil ways. So which of these evil-kid movies makes our honor roll? Warning: Spoilers ahead!
Meet the (Poor) Parents
Orphan: After suffering a devastating stillbirth, Kate and John Coleman (Vera Farmiga and Peter Sarsgaard) decide to adopt Esther (Isabelle Fuhrman), an older child, into their growing brood. But Esther's deadly antics soon cause rifts between recovering-alcoholic Kate and recovering-philanderer John.
The Omen: After his unsuspecting wife Katherine (Julia Stiles) suffers a stillbirth, ambitious career diplomat Robert Thorn (Liev Schreiber) secretly switches their dead baby with a live one whose mother died in childbirth.
Winner: Orphan. On paper, diplomats should be more interesting than your average credulous horror-movie yuppies, but Farmiga and Sarsgaard breathe new life into their troubled characters.
The Ill-Fated Holy Ones
Orphan: Sister Abigail
(CCH Pounder), the kind nun in charge of the orphanage where Esther is
discovered, takes a special interest in the Colemans after hearing of
their troubles with Esther. Her reward: Having her head repeatedly
smashed to a pulp by a hammer-wielding tot.

The Omen: Father Brennan (Pete Postlethwaite) tries to warn
Robert of a prophecy involving the evil nature of his son. His reward:
Impalement on a large steel rod.
Winner: The Omen. This is definitely one of the best movie impalements in recent memory.
So What's the Deal With This Kid, Anyway?
Orphan: Esther appears to
be a perfectly-coiffed, well-educated little girl who has difficulty
making friends. In reality, she's a 32-year-old escaped Estonian mental
patient with a long string of murders and arsons to her name!
The Omen: Damien appears to be a stone-faced and inexpressive young lad. In reality, he's the Antichrist.
Winner: Orphan.
Esther's transformation from Little Miss Manners to a knife-wielding,
scar-riddled lunatic is genuinely chilling. Also, totally dig that
Dracula accent.
Verdict
Winner: Orphan. It's the intense, full-blooded horror movie The Omen and so many others want to be.
Read More