Memorable Moments From Comic-Cons Past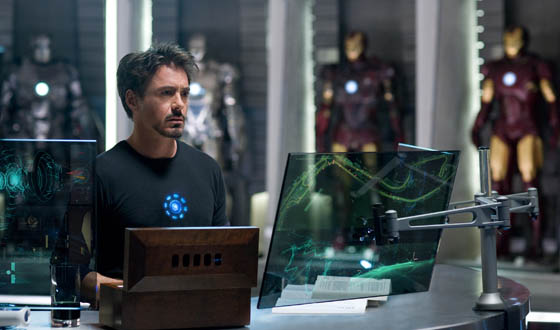 As Hollywood gears up for this week's San Diego Comic Con International, it's important to remember how far "nerd prom" has come. Back in the '70s when it was known as the Golden State Comic-Con, a whopping 300 fans descended on the sun-dappled city to actually, you know, buy comics and meet creators. But over the years the heavily attended con has strayed a bit from its namesake to become a showcase for Hollywood's latest blockbusters. Before we're flooded with Iron Man 2 and Chuck news, let's look back at some of the memorable moments of comic cons past.
Stars Wars Gets a Low-Tech Debut, 1976


Now a regular con presence, the Lucasfilm empire tapped into their fanbase early by showing off a slideshow of cast photos and production artwork a year before the movie's release. They also handed out stickers. So quaint! With the Con reaching its biggest attendance to date that year (a now humble 3,000), Lucas and his marketing gurus realized the growing power of fandom and set the template for future word-of-mouth franchises. If only the CGI-happy filmmaker could remember the days when excitement was built with nothing more than an R2-D2 sticker.
Bryan Singer First Tastes Geek Venom, 2000


Despite X-Men's big screen success that summer (which kicked off Marvel's current superhero movie golden age) Singer still caught flack from geeks for what didn't make the cut — namely, a Danger Room sequence and a cameo from egghead mutant Beast. Singer would later become a nerd whipping boy for abandoning the X-franchise for Superman Returns, but it was at the 2000 Con where he learned that the toughest crowd is one that collectively breathes through its mouth.
Spider-Man and Fellowship of the Ring Debut, 2001


Hollywood interest in Comic Con reached critical mass in '01, with footage of everything from Spider-Man to Attack of the Clones screening to the delight of attendees. Seemingly overnight, the floodgates opened for anything even remotely geek-friendly to make an appearance. Thus, San Diego became as important a stop in the Hollywood promotion engine as Cannes or Sundance, and studios learned the geek crowd is a much tougher sell than beret-wearing movie snobs.
300 Causes Widespread Jaw-Droppage, 2006


Way before everyone grew weary of Zack Snyder's slavish devotion to the comic book page (and Frank Miller's testosterone-addled worldview), the duo offered Con gatherers a peek at 300 that took everyone's breath away. The buzz that resonated from the clips helped propel the violent, star-less action epic (based on a graphic novel few had heard of) to colossal box office success. Such was our trust in Snyder's hype, we collectively fell for it two summers later when he screened Watchmen clips at a panel. Hey, the guy gives a good trailer.
Jon Favreau "Punks" Fans with Iron Man Footage, 2007


Ever the jokester, Favreau presented an "exclusive clip" of his upcoming superhero flick only to show a scene from a cheesy '60s cartoon. When the lights came up, the director turned his camcorder on the crowd, joking that he didn't want to be the only one to leak the footage to YouTube. Then the actual trailer screened, and the crowd, naturally, went wild. Fears that the Elf director couldn't give us a convincing Iron Man were squelched, as everyone realized the character was in good (and hilarious) hands.
And five more memorable moments:
Neal Adams and Jack Kirby Attend the Con, 1973 — The two comic book greats attended the Con the first year it went under the San Diego name. If you were there, my hat's off to you.
Blade Runner, 1981 — Years before the various director's cuts, behind-the-scenes footage of the Harrison Ford classic screened to the one audience that totally got it.
Buffy the Vampire Slayer Gang Meets Their Stalkers, 1998 — One of the first major appearances of a TV series cast outside of Star Trek, the Buffy panel was a notable moment for Hollywood/Nerd convergence. Plus, it was a chance for Alyson Hannigan obsessives to violate their restraining orders.

Hayden Panettiere Shows Allergy to Geeks, 2008 — In a much-circulated photo, Heroes's resident super-powered cheerleader grimaced while applying copious
amounts of hand sanitizer during an autograph session. A reminder that while Hollywood is currently infatuated with geeks, they'd still rather not touch them.
Patton Oswalt Interviews the Mystery Science Theater 3000 Gang, 2008 — Two comedy nerd faves united, causing heads to explode with laughter.
Got any favorite moments from Comic-Cons past? Attending this year? Let us know in the comments. And for more comic book movie news and views, hit up Nick Nadel's column on Twitter.
Read More