Mad Men, Breaking Bad and Storymakers Nab 23 Emmy Noms for AMC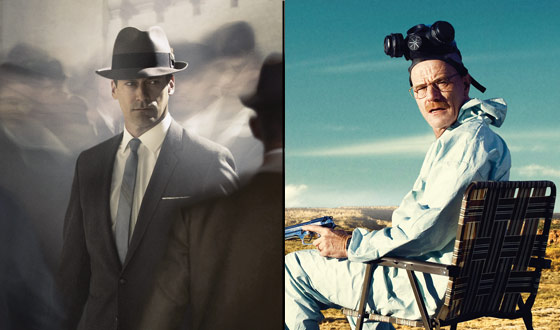 have received a combined total of 21 Primetime Emmy nominations, scoring multiple nods in all the major categories. Mad Men scored 16 nominations, including Outstanding Drama Series, Outstanding Lead Actor (Jon Hamm) and Outstanding Lead Actress (Elisabeth Moss), while Breaking Bad received a total of five nods including Outstanding Drama, Lead Actor (Bryan Cranston) and Supporting Actor (Aaron Paul). The two AMC dramas will face favorites like Lost, Dexter, Damages and Big Love come September.
Also leading the Emmy nominations this year was Tina Fey's NBC comedy 30 Rock, which scored a whopping 22 nods (including Best Lead Actor in a Comedy Series for Alec Baldwin). Meanwhile, there were some surprises in the comedy series category, with Family Guy and Flight of the Conchords sneaking in among usual suspects like The Office and How I Met Your Mother.
In the creative categories, AMC's Storymakers earned nods for Outstanding Main Title Theme Music and Outstanding Main Title Design. (Click here to read an interview about how the titles were made.) Check out a list of the major nominees after the jump.
Outstanding Comedy Series

Entourage
Family Guy
Flight of the Conchords
How I Met Your Mother
The Office
30 Rock
Weeds
Outstanding Drama Series
Breaking Bad
Damages
Dexter
House, M.D.
Lost
Mad Men
Big Love
Outstanding Made for Television Movie
Coco Chanel
Grey Gardens
Into the Storm
Prayers for Bobby
Taking Chance
Outstanding Lead Actor in a Comedy Series
Alec Baldwin, 30 Rock
Steve Carell, The Office
Jemaine Clement, Flight of the Conchords
Jim Parsons, The Big Bang Theory
Tony Shalhoub, Monk
Charlie Sheen, Two and a Half Men
Outstanding Lead Actor in a Drama Series
Simon Baker, The Mentalist
Gabriel Byrne, In Treatment
Bryan Cranston, Breaking Bad
Michael C. Hall, Dexter
Jon Hamm, Mad Men
Hugh Laurie, House M.D.
Outstanding Lead Actor in a Miniseries or Movie
Kevin Bacon, Taking Chance
Kenneth Branagh, Wallander
Brendan Gleeson, Into the Storm
Kevin Kline, Great Performances: Cyrano de Bergerac
Ian McKellan, King Lear
Kiefer Sutherland, 24: Redemption
Outstanding Lead Actress in a Comedy Series
Christina Applegate, Samantha Who?
Toni Collette, United States of Tara
Tina Fey, 30 Rock
Julia Louis-Dreyfus, The New Adventures of Old Christine
Mary-Louise Parker, Weeds
Sarah Silverman, The Sarah Silverman Program
Outstanding Lead Actress in a Drama Series
Glenn Close, Damages
Sally Field, Brothers & Sisters
Mariska Hargitay, Law & Order: Special Victims Unit
Holly Hunter, Saving Grace
Elizabeth Moss, Mad Men
Kyra Sedgwick, The Closer
Outstanding Lead Actress in a Miniseries or Movie
Drew Barrymore, Grey Gardens
Jessica Lange, Grey Gardens
Shirley MacLaine, Coco Chanel
Chandra Wilson, Accidental Friendship
Sigourney Weaver, Prayers for Bobby
For a complete list of all the nominees, go to Emmys.com.
Read More