Ice Age's Director Describes His Prehistoric Journey to the Center of the Earth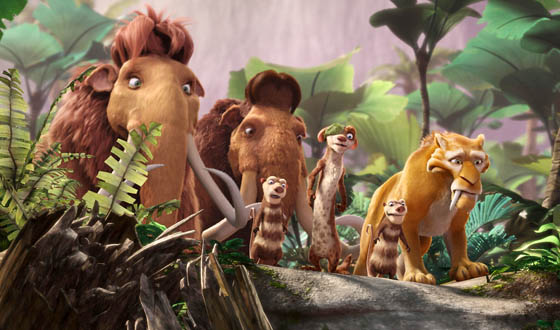 Ice Age's Director Describes His Prehistoric Journey to the Center of the Earth" width="560″/>

Animator-turned-director Carlos Saldanha describes taking the Ice Age franchise into genre territory, infusing a Moby Dick love story into his latest picture and turning his attention to humans for the upcoming movie Rio.
Q: In Ice Age 3 you were tasked with bringing dinosaurs into a time period they didn't belong. How did you approach this?
A: We did a brainstorm and this idea came, "What if the dinosaurs came to the Ice Age?" I was very excited about that because I'm a huge fan of dinosaurs, but then I was like, "But the dinosaurs didn't exist in the Ice Age, so how are we going to do that?" And that's when the concept of the fantasy genre came — when you think about movies like King Kong or Journey to the Center of the Earth. What if they discovered this lost underworld of dinosaurs? Then you don't have to explain the logic that dinosaurs actually lived in that world. And then we had a lot of fun with it. We created a completely new world within the world that we had already created.
Q: Was it freeing to be able to introduce a strong fantasy element to the series?
A: It's more fantasy, for sure. But all the Ice Ages had some fantasy in there: In the first one they walk through the cave and see frozen dinosaurs and a frozen spaceship. So there's always been a little element of it, but in this one we went all the way, we pushed it because we needed the characters, the story points to be there. And we just had a good time. I think Journey to the Center of the Earth is more fantastical than what we've created. We pretty much just stuck to the dinosaurs as a dinosaur world under the ice. But definitely these fantasy elements are weighing on one another as a form of inspiration for the genre we created.
Q: Speaking of inspiration, one of the main story lines features a new character Buck, on the hunt for a great white dinosaur.
A: That was fun to create. Buck is a mixture is a mixture of that Indiana Jones adventure explorer guy with Colonel Kurtz from Apocalypse Now. He has a little bit of both personalities, but he has this obsession. And one of my favorite obsessive stories is Ahab and Moby Dick because of that one-minded obsession of trying to conquer the biggest creature. In a way it's a love story.
Q: How did directing Ice Age in 3D differ from your experiences with the first two?
A: It was mostly a challenge in terms of scheduling. We underestimated the number of challenges we'd have with quality control — fixing little problems and making sure that all the depth was working. It didn't change too much the creative process, but it made me much more aware of camera composition, character placement and also the cuts: Sometimes we'd see a shot in 3D and it's like, "Oh my God it's moving so fast." We tried as much as we could to fix those as we went through the process, so I'm sure our next movie we're going to be much more aware. But at the end I was surprisingly happy with the outcome.
Q: Do you see Ice Age as a closed trilogy now, or will you make more?
A: For me as a director, this is my last Ice Age. I'm sure I will continue to contribute with the saga if they continue to make them — and as long as we can continue to make these characters interesting and fun to watch, I'm sure there will be other Ice Ages. But for me this is the last one. I'm very happy that I was there for all three, though.
Q: Your next project, Rio, continues with the talking animals CGI motif.
A: This one is a little different because it's talking animals in a human world. There will be humans, and they'll be characters who are talking. We did a little bit of humans in the first Ice Age, but they were not the same. They were very stiff and almost non-existing. In this one humans will have a bigger role — they'll have their own stories, their own issues.
Q: Having worked on all three Ice Ages and directed two of them, which is your favorite?
A: You know, I have to say that I loved all three of them for specific reasons. But I think that this last one is probably my favorite. I think the emotion, the fun, the complexity of it is great. I also suffered way more on this one than on any of the other ones — it was much more work, and I like that. It was a tough one — the schedule was tough, the characters were tough. But I guess no pain, no gain.
Read More