From Major Stud to Big-Time Dud – Ten '80s Heartthrobs Who Failed the Test of Time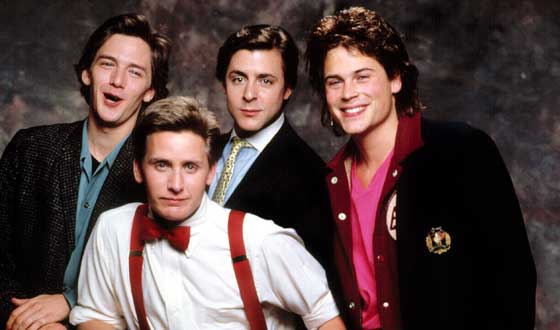 Everything burned brighter in the '80s … the hair, the clothes, and yes, the movie stars. It was a particularly frenzied time in the history of teen idol worship, but many of the era's icons ended up fading into obscurity. Today, the young heartthrobs of the '80s are more likely to appear in police blotters and reality shows than hit movies, their fame having evaporated near-simultaneously with the end of the decade that made them stars. Is your favorite pet actor from the '80s on this list? Read on to uncover their fate.

Andrew McCarthy
McCarthy was so cool even his Pretty in Pink (1986) co-star Molly Ringwald says she thought he was "dreamy" at the time. Alas, the man who wooed Kim Cattrall in Mannequin (1987) and Ally Sheedy in St. Elmo's Fire (1985) hasn't had a real hit since then. In 1989, he had one last gasp of success with Weekend at Bernie's and hasn't had one iota since. Luckily, television is a welcoming haven for former movie stars: He's landed roles on Lipstick Jungle and Law & Order: Criminal Intent.

Anthony Michael Hall
Hall was everyone's favorite '80s nerd and stealth stud, playing John Hughes' alter egos in The Breakfast Club (1985) and Sixteen Candles (1984). Like so many of his fellow '80s teen idols, Hall succumbed to the perils of fame and had to take a hiatus at decade's end. When he resurfaced in Edward Scissorhands (1990) his days as a star were over. Luckily, Hall regained a small portion of his prior success on the popular series The Dead Zone. Not all of his fellow '80s stars were so lucky, such as…

C. Thomas Howell
Howell
is the quintessential '80s man. His stardom came early and faded fast. Starting with the career-making The Outsiders
(1983), he became a fixture in teen magazines. Then, in an ill-fated
attempt to channel the era's fixation on the indignities of
affirmative action, he played a rich teen donning black-face to get a
Harvard scholarship in Soul Man (1986). After that, America seemed to come to its senses and Howell, the one-time cover boy for Teen Beat and Tiger Beat, found his career at a standstill.

Corey Haim and Corey Feldman
Inseparable
in the public consciousness, the Coreys flew high and crashed and
burned together. Feldman starred in essential '80s teen flicks The Goonies (1985) and Stand by Me (1986), Haim was no slouch either, starring in Lucas (1986). These uber-teen idols joined forces as the decade neared its end in The Lost Boys
(1987), but that was to be their last hit. Haim went on to battle drug
issues, while Feldman resorted to reality TV. Finally, the two
bottomed out when a publicized feud ended a joint reality show, The Two Coreys.

Emilio Estevez
While
brother and fellow Brat Pack-er Charlie Sheen remains the highest-paid
man on TV, Estevez's last acting credit was as a guest star on Sheen's
show — quite a downturn for the notorious party captain of the Brat
Pack. Estevez starred in such classics as The Breakfast Club and St. Elmo's Fire but unlike most of our '80s idols, his career lasted into the early '90s with Young Guns II (1990) and Men at Work (1990). The highlight of the 19 years since then? Behind-the-camera work as the director of Bobby (2006).

Kirk Cameron
Cameron
went a different route than most of his fellow '80s heartthrobs, having
dropped out of the spotlight in the '90s to become an evangelical
Christian TV host. Cameron's drop-off from '80s heartthrob to dud
didn't follow the familiar story line for line; in fact, he's still
quite successful. Still, it seems nearly unfathomable that the star of Growing Pains and Life Father Like Son (1987) would now be best known for the blockbuster Christian flick Fireproof (2008).

Ralph Macchio
Like Howell, Macchio used The Outsiders to move on bigger and better things: The Karate Kid (1984) and the covers of magazines like Bravo (at right). Unfortunately, the good times didn't last and by the close the Karate Kid
trilogy, which appropriately enough came out in 1989, he was 28 and
had put on weight in proportion with the deterioration of his career.
Despite one last hurrah in My Cousin Vinny (1992), Macchio essentially dropped off the face of the earth after that, another casualty of the '80s.

Rob Lowe
When it comes to '80s teen idols who flamed out the hardest, Rob Lowe deserves top billing. He starred in The Outsiders and St. Elmo's Fire,
both practically prerequisites for rising stars in the '80s. But he's
been mired in controversy ever since, including a sex tape with an
underage girl and a sex scandal involving his children's nanny. As a
successful TV actor, his fall hasn't been as steep as some, but
remember the days when it seemed like Lowe would someday be the biggest
star in the world? He surely does.

Scott Baio
Baio
technically got his start as a teen idol in the '70s but it's heresy to
list '80s-era teen heartthrobs without mentioning Chachi. After
starring as Fonzie's cousin on Happy Days, Baio went on to teen idol greatness with a couple of hit TV shows and the '80s classic Zapped (1982). Unsurprisingly, the end of the decade meant the end of Baio's career: Both Charles in Charge and his career ended around 1990. These days, he's mostly known for dating beautiful women.

Read More