Uncategorized
Flashback Five – Twilight's Rachelle Lefevre Joins the Ranks of Famous Fired Actors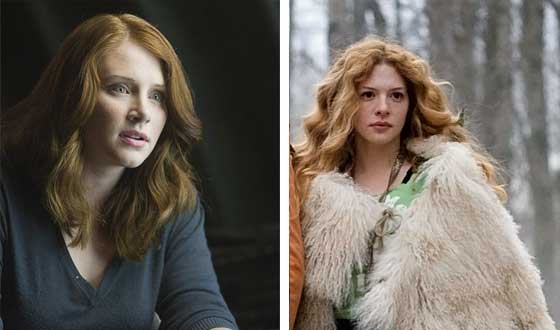 "You're fired." Two simple words, but ones that no one wants to hear, especially if they're in the middle of filming a big blockbuster movie. Young Twilight star Rachelle Lefevre found out her services were no longer required the hard way: By reading about it in the newspaper. Yesterday's announcement that Bryce Dallas Howard (above left) would replace Lefevre (above right) in the third movie, Eclipse, came as a shock to both her and her fans, but they can take some solace in the fact that she's in good company, at least — as the following list of high-profile movies firings goes to show.
1. Sienna Miller, Robin Hood (2009)
Ridley Scott's forthcoming Robin Hood reimagining is still in production, but there will be one element missing at its premiere: Sienna Miller. The actress was originally cast opposite Russell Crowe as Maid Marian, but was fired halfway through production. The reason? Miller was too sexy. Reportedly, the age (and weight) difference between the two leads led to awkward love scenes between the two — probably not the effect Scott was going for.
2. Jodie Foster, The Game (1997)
Less harmonious was Jodie Foster's dismissal from this David Fincher thriller. Foster was the first one to sign on to the movie, after which Michael Douglas was cast in the lead. Initially, Foster was to play Douglas' daughter, but the 51-year-old Douglas wanted Foster (then 33) to play his sister. Foster disagreed, and was let go from the production, leading her to sue the production company. Everything turned out OK in the long run: Foster settled the suit (for an undisclosed amount); and Fincher cast her in Panic Room (2002).
3. Eric Stoltz, Back to the Future (1985)
One of the most famous firings in movie history, Eric Stoltz was originally set to play Marty McFly in Back to the Future
(1985). In fact, Stoltz reportedly filmed over 40 minutes of the
movie and spent five weeks on set with director Robert Zemeckis before
being deemed far too serious for a comedy. Stoltz has never spoken
publicly about the firing, and his scenes has never been publicly
shown… Though stills from the production can be found around the
Internet, and footage shot without Stoltz was used in the finished
movie.
4. Michael Keaton, Purple Rose of Cairo (1985)
Another mid-shoot replacement, Keaton was originally cast as the lead
in this Woody Allen flick. Three weeks into shooting, Allen decided
Keaton wasn't working out and unceremoniously fired him from the set,
replacing Keaton with Jeff Daniels. Keaton was, at that point, riding
high off a string of hits, including Night Shift (1982), Mr. Mom (1983), and Johnny Dangerously (1984). In fact, 1985, the year Purple Rose
was released, is the only year of Keaton's career in which he didn't
release any movies, and it was followed by three years of bombs. It
wasn't until Beetle Juice (1988) that Keaton got his footing back.
5. Harvey Keitel, Apocalypse Now (1970)
One of the most notoriously difficult actors working in Hollywood, its
no surprise that Keitel has been fired off multiple sets. The most
famous example is probably Apocalypse Now
(1979), itself a famously troubled shoot. Three weeks into filming,
director Francis Ford Coppola was extremely unhappy with Keitel's take
on the main character of Captain Benjamin L. Willard. He flew back to
Los Angeles, cast Martin Sheen, and fired Keitel. Rather than taking
legal action, the famously fire-tempered Keitel reports that he went
into a Phillipines bar, had a drink, listened to an off-key rendition
of "My Way," and calmly flew back to L.A.
Honorable Mentions:
1. Terrence Howard, Iron Man 2: Howard, like Lefevre, claimed that he had no indication he wasn't coming back as James Rhodes in Iron Man 2 (2010). Howard went on the offensive, claiming to the press that he didn't care because the script was so terrible. A likely story.
2. Stuart Townsend, Lord of the Rings: Fellowship of the Ring (2001): Fired the day before shooting started on Peter Jackson's epic,
Townsend was originally cast as Aragorn. Townsend took the lack of payment,
despite having worked two months, quite well, and went quietly.
3. Melora Hardin, Back to the Future (1985): Hardin was originally cast as Marty's girlfriend Jennifer,
only to be fired right after Eric Stoltz, and replaced by Claudia
Wells. Then Claudia Wells was replaced in the second movie by Elisabeth
Shue. Time travel is a fickle beast!
4. Sylvester Stallone, Beverly Hills Cop (1984): Stallone was originally the lead in the Eddie Murphy action comedy,
before rewriting the script to remove all the comedic elements, and
turning it into a gritty action movie. The studio wanted no part of his
vision.
5. Raquel Welch, Cannery Row (1982): Welch was replaced by Debra Winger after just five days on the set of this musical, reportedly
because she was taking too long to get ready to shoot her scenes. She
won a multi-million dollar suit against MGM, and irreparably damaged
her career in the process.
Read More