Dennis Quaid Gives The Rookie Perfect Pitch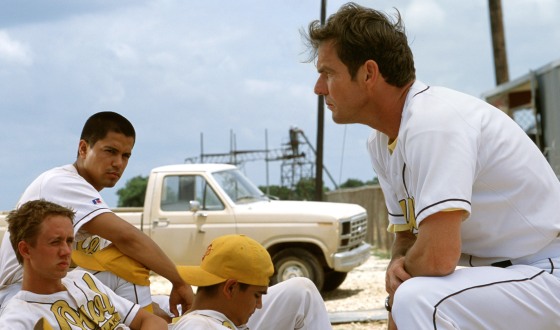 The newly-released trailers for the upcoming G.I. Joe: The Rise of Cobra make at least one thing clear — that Dennis Quaid has now entered a profitable, if predictable, stage in his career where he can show up to lend grit and goodness to a huge action-blockbuster by his mere presence as "General Hawk." And it's hard to argue with that too much: If anyone deserves to sell out/buy in, it's Quaid — he's definitely paid his dues. And true Quaid fans will be endlessly rewarded by a look at the back catalogue that earned him his near-iconic status — like, say, The Rookie, 2002's unexpectedly charming sports drama in which Quaid stars as Jim Morris, a small-town Texas baseball coach who gets offered a late-in-life chance of a lifetime.
Let's be honest:The Rookie is loaded with clichés, but the mitigating factor is that it's based on a true story. Quaid plays Jimmy Morris, a coach who spent some time in the minors years ago; he's older now, with a family, and his dreams of baseball glory are sublimated onto the kids on his team, whom he loves unabashedly. It turns out Jimmy's still got an arm, though, and when he pitches for the kids when a scout comes to town, his fastball clocks in at 98 miles per hour. As the scout (a perfectly-cast Blue Deckert) says, "Now, if I call the office and tell 'em I got a guy here almost twice these kids' age, I'm gonna get laughed at. But, if I don't call in a 98-mile-an-hour fastball, I'm gonna get fired!"
Alas, Jimmy doesn't have daydreams; he has a day job. But the kids on his team make a deal with him — namely, that if they can make it to the playoffs, he has to commit to open tryouts for the big leagues. Of course they do, and of course he does. But Hancock doesn't make this material easy. In fact, with its tone of dreams deferred, denied and diligently worked for in the wide-open spaces of Texas, The Rookie would make a great companion piece for the excellent Friday Night Lights.
Still, there's no mistaking that The Rookie is Quaid's show. His work as Morris isn't just broad; it's deep. Quaid captures the complexities of real marriage here, and real family life, even among all the pitching-at-sunset and weary-armed post-practice montages. Yes, Quaid makes use of that rakish smile of his in The Rookie — quite a bit, actually — but he also shows you how it's not just the smile of a man trying to charm others, but also trying to convince himself.
The old line that you can tell a great actor by how much they improve a good movie applies to The Rookie. Some of its more sentimental moments would be numbingly saccharine if Quaid weren't always there to remind us that Jimmy's caught between the lunacy of trying to get back into a young man's game and the madness of having regrets that haunt him. You know how The Rookie's going to end — what makes the film work is Quaid, who makes you contemplate the effort it takes to be a decent man, and understand what it feels like to be torn between one's dreams and one's doubts.
Watch The Rookie on AMC Sat., July 11 at 8PM | 7C.
Read More