Daily Scan for 07.03.09 – Predators Gets Director; Farscape Gets Boxed Set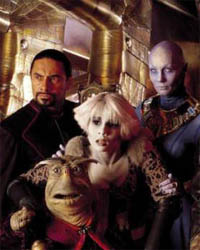 • Robert Rodriguez finally spills the official beans on who will be directing Predators: Nimród Antal, director of the forthcoming Armored.
• My favorite scifi series of all time, Farscape, is getting a mega boxed set, filled with all the seasons, the mini-series, and dozens of hours of extras, to celebrate the tenth anniversary.
• Some more information on this year's Star Wars live-action series: it has apparently started pre-production, in Australia.
• Terry Gilliam's next project, Zero Theorem, which seems like Brazil updated for the corporate-cubicle-zombie age, has been scrapped.
• io9 has a roundup of one of my favorite horror-scifi crossover genres: vampires in space
• All of your favorite Star Wars characters as baroque woodcuts.
Read More