Classic Ten – Worst BBQ Guests (Or, How Not to Behave While Grilling)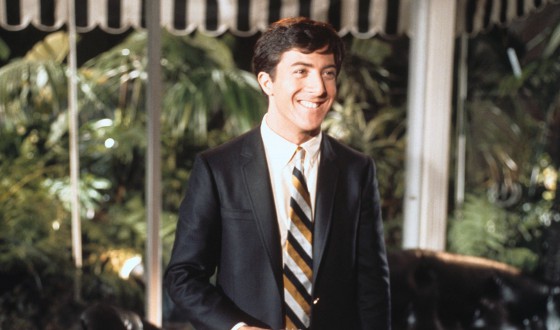 When mercury levels soar, the natural impulse is to give the range a rest and make meals outdoors. Throw a couple of burgers and dogs on the grill, crack open a cold one, and it's an instant party. Plenty of movies celebrate this quintessentially American activity, and they offer invaluable reminders that not all cookout guests are created equal. As you mastermind your own grill sessions this season, consult this list of the top-ten worst-ever BBQ guests… and plan accordingly.

10. Dustin Hoffman, The Graduate (1967) There are plenty of badly behaved guests at the graduation party the Braddocks throw in the back of their home. His parents' friends keep offering Ben (Hoffman) unsolicited career advice. Mrs. Robinson asks Ben to drive her home, only to seduce him. But it's the sullen guest of honor himself who's the worst. Escaping the cookout by donning his goggles and fins and slipping into the pool lands Ben in tenth place.

9. Johnny Depp, Edward Scissorhands (1990)Poor Peg Boggs. The amiable Avon Lady is trying out some soothing salves on her shy houseguest's many scars when the doorbell rings. The nosy neighbors on the doorstep insist Peg host a backyard barbecue to introduce the newcomer. Peg complies, and the otherwise freakish, pale recluse is withdrawn but well behaved. Alas, his inability to handle finger foods (not to mention that pesky ambrosia salad) with his daggerlike hands renders him unlikely to receive a repeat invitation anytime soon.

8. Greg Pitts, Office Space (1999)
For a guy who'd rather be fishing than at the office, Peter Gibbons sure spends a lot of free time with his Initech buddies, Michael Bolton and Samir. Then there's Drew (Pitts). At a cookout hosted by recently laid-off Tom, Drew tells Peter that his new girlfriend, Joanna, used to sleep with their reviled boss, Lumbergh, and that's after he sees fit to demonstrate his "oh face." Drew's overshare about his plans for the new chick from Logistics scores him an eight.



7. Dan Aykroyd, The Great Outdoors (1988)Chet (John Candy) is looking forward to a serene vacation when loudmouth Roman (Aykroyd) and his family show up. The brothers-in-law are polar opposites. Pushy Roman's a self-styled big shot who brags about everything, a seventh-place trait made obvious during the first night's cookout. Mild-mannered Chet wants hot dogs, but Roman insists on lobster, saying, "You know what they make those things out of? Lips and assholes!" Classy.

6. Stan Shaw, Fried Green Tomatoes (1991)Hope your summer fare doesn't share any resemblance to the grub cooked up by Big George (Shaw). When sweet Ruth's abusive husband tracks her down, George and gal pal Idgie kill him, chop him up, grill him, and serve him to the detective in search of the missing man. With his sly response to the cop's compliments — "Thank you, suh. I'd have to say the secret's in the sauce" — Big George scores an easy sixth.
5. Paul Sorvino, Goodfellas (1990)


The scene in which Paulie (Sorvino) and his buddies prep pasta in prison is rightfully famous.But in Scorsese's Mafia flick even a simple backyard BBQ is imbued with menace. As the audience sees wise guys grilling up sausages and peppers and paying their respects, Henry's voice-over explains that Paulie's protecti
on is like a "police department for wise guys." The ability to order hits as well as hot dogs earns the culinary capo fifth place. Mangia!

4. Randy Quaid, National Lampoon's Vacation (1983)Visit Coolidge, Kansas! Better yet, don't. That's where Clark Griswold has the misfortune of spending time with wife Ellen's cousin, Catherine, and her husband. In addition to his lack of hygiene, Cousin Eddie (Quaid) brings the vibe of the visit to a new low during a cookout when he produces his pièce de résistance: Hamburger Helper sans the meat. Would you want this guy lounging on your patio? Nobody would! Still, there are worse guests out there, such as…

3. Vivien Leigh, Gone With the Wind (1939)
The Twelve Oaks-barbecue-party sequence falls toward the beginning of the classic southern epic Gone With the Wind, and it certainly sets the table for what's to come. Green-clad career flirt Scarlett O'Hara (Leigh) gleefully works the room at the party, trying to attract Ashley Wilkes's attention. Unfortunately, seductively telling a guest "Charles Hamilton, I want to eat barbecue with you" has the opposite effect. Scarlett's transparent use of the lamest pickup line ever helps her crack the top three.

2. Clint Eastwood, Gran Torino (2008)
Who's the perfect guest at the recently immigrated Hmong family's barbecue? Tough to say, but probably not the crotchety racist who lives next-door. Nevertheless, after Walt Kowalski (Eastwood) brandishes his rifle at the gangbangers menacing his neighbor, the kid's grateful sister, Sue, invites her brother's savior to join them for a meal of grilled goodies. Walt may be good at heart, but the old guy still gets second place for his unapologetic use of racial slurs like "gooks." Awkward!

1. Josh Brolin, W. (2008)Liberal director Oliver Stone does a bang-up job showing how boozy bad boy (and fellow Yale alum) George W. Bush (Brolin) met and won over his life pardner, Laura. Chatting her up at a barbecue celebrating his first run for Congress, he promises the LBJ supporter he'll make her his education adviser if he wins, saying, "I like the way you think. And look." Dubya's obnoxious line and the ominous undertones of the cookout earn him a new title for his résumé: Worst. Guest. Ever.
Read More