Classic Ten – Standup Comic Movie Stars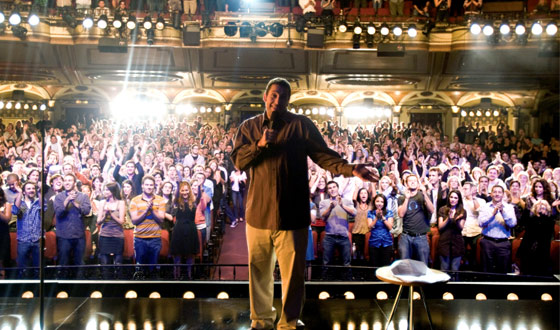 In Judd Apatow's third movie Funny People, the comedy world is a pretty complicated place. But a wise person once advised that the key to success in Hollywood is actually very simple: "Make 'em laugh, make 'em laugh, make 'em laugh." Maybe that's the reason why scores of stand-up comics have managed to make near-seamless transitions from the stage to the big screen. Even so, only a relative handful of funny men and women manage to break free from their one-liner straitjackets and really, truly act. These ten comedians are true trailblazers. No joke.
10. Zach Galifianakis
In 2009, it's Zach Galifianakis's world, and we're all just living it. Of course, he's been a star to the comedy cognoscenti for years, appearing frequently on late night television and alongside fellow crossover success Patton Oswalt on the "Comedians of Comedy" tour. Then Hollywood got in on the act, harnessing his edgy, offbeat affect to perfection in The Hangover. As the bride-to-be's brother Alan, who tags along on the fateful trip to Vegas, Galifianakis delivers some of the movie's oddest — and funniest — lines, landing him in tenth place.
9. Lily Tomlin
Lady comics from easy-going Ellen De Generes to potty-mouthed Sarah Silverman all owe Lily Tomlin a big debt for bringing the funny first. Originally known for such classic characters as Ernestine the telephone operator and little girl in a big rocking chair Edith Ann, Tomlin has won a Grammy, two Tonys for her one-woman shows, and even an Oscar nomination for Best Supporting Actress in Robert Altman's Nashville. And she just keeps on working, in big-budget fare and arty indies, comedies and dramas — a rare range that ranks ninth.
8. Jim Carrey
It's hard to remember that Jim Carrey first caught the public's eye as the token white guy on the sketch comedy series In Living Color because within a year, he'd vault to movie star status as Ace Ventura. Today audiences are just as likely to recognize the rubber-limbed funny man for over-the-top physical comedies like Dumb & Dumber as they are for much more serious stuff like The Truman Show and Eternal Sunshine of the Spotless Mind. For treading the thin line between laughter and tears, Carrey comes in eighth.
7. Woody Allen
Woody has been working his nebbishy neurotic shtick for so long, many people forget it's just that, an act. Best known now as the director of some certifiable classics who somehow manages to churn out a new movie almost every year (OK, and for marrying his long-time girlfriend's adopted daughter, Soon-Yi), Allen first rose to fame as a stand-up comedian. Many of the best bits from his legendary act trace the same hang-ups — women, psychiatry — he deals with on screen. That consistency earns Allen the seventh spot.
5. Whoopi Goldberg
Long before Whoopi Goldberg took up taunting Elisabeth Hasselbeck on The View, she made movies. Some were serious (The Color Purple), some were silly (Sister Act), a few were straight-up awful (Jumpin' Jack Flash, anyone?), and one, Ghost, won Goldberg the Oscar for Best Supporting Actress, making her only the second African American woman to be so honored. But Whoopi's first fame came in the '80s, when she took Broadway by storm with her one-woman show, performing characters who were hilarious, yes, but also heartbreaking. Chops like that get Goldberg into sixth place.
5. Robin Williams
Williams first burst onto the scene as a (cocaine-fulled) Tasmanian
devil of comedy. Then he came to earth as TV's Mork, sobered up, and
made a splash on the big screen. Williams has a big sentimental streak
when it comes to picking roles that can be rewarding — Oscar noticed him
in Dead Poets Society and Good Will Hunting. Other parts (Patch Adams,
Jack) leave audiences yearning for Mrs. Doubtfire's drag and his animated
Genie's (Aladdin) manic energy. Love him or hate him, this guy deserves a place on the list: Fifth.
4. Jamie Foxx
To say that Jamie Foxx's movie career has had its ups and downs would be stating the case mildly, but the ups are up there enough to warrant fourth place. An Oscar nom for Best Supporting Actor for 2004's Collateral would have been great all on its own, but it's tough to top taking home the Best Actor Academy Award for playing Ray Charles in the same year. The low points (ahem, Booty Call) remind audiences that Foxx is another graduate of the In Living Color college of comedy.
3. Adam Sandler
Call Sandler a comedy savant. The guy made his stand-up debut when he was only 17. So it should probably come as no surprise that the precocious jokester was able to spot budding comedy chops in others. He and (not yet director) Judd Apatow were roommates in Los Angeles before Sandler was on Saturday Night Live. Since then, the angry-sweet man-child has made a mint at the box office. Even though his serious roles haven't met with the same success, Sandler's willness to stretch breaks him into the top three.
2. Eddie Murphy
If someone had told the red-leather-clad Eddie Murphy of 1983's Delirious that by 2009 he'd go on to star in a bunch of G-rated children's movies — some of them animated — the potty-mouthed performer probably would have expressed his disbelief in words that couldn't be repeated here. Murphy comes in second because he's had more second lives than almost any comedy star, moving from Saturday Night Live and R-rated gems like Beverly Hills Cop through a fallow period to his current resurgence as an animated donkey (in Shrek) and an Oscar nominee (for Dreamgirls).
1. Steve Martin
Back in the late 1970s, Martin was like a rock star. The stand-up toured constantly, playing huge arenas. Then he hung up his white suit and conquered Hollywood. He's also a Grammy winner — for comedy and as a banjo player, a playwright of some renown, a best-selling novelist and now a memoirist. Martin also holds the record for guest-hosting Saturday Night Live and has starred in (as well as written) some of the best (and worst) movies of the past 30 years. First and foremost, he is a wild and crazy guy.

Read More