Bring Out Your Dead – Ranking the Body Counts of Schwarzenegger, Snipes, and Stallone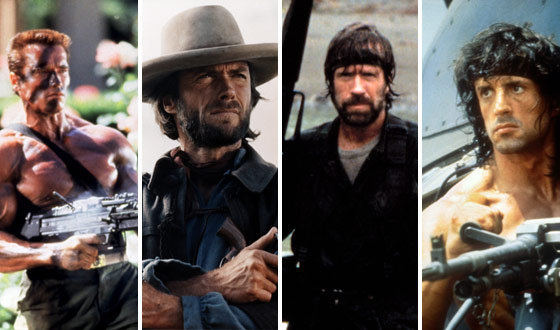 The best way to measure a killing machine's might is to take a ruler to the piles of stacked-up bodies that surround him or her at movie's end. How best to honor (and rank) the ten greatest movie killing machines? On a body-count scale of 1 to 100, of course.

Kate Beckinsale – Body Count: 70
She wouldn't hurt you, would she? She's just too damn pretty. Tell that to all the persecuted vampires, werewolves, and monsters she slayed in Underworld (2003) and Van Helsing (2004). Once you get Beckinsale in tight black leather, she goes from British beauty to dangerous killing machine in the blink of an eye. No complaints here: While ridding the world of all sorts of dangerous monsters, she looks unbelievably hot.

Will Smith – Body Count: 71
Like the nice, jovial guy he is, Smith mostly kills things of the nonhuman variety. In I Am Legend (2007) his zombie-death count was off the charts. Same goes for I, Robot (2004) and Men in Black (1997). Lest you think Smith's morality renders his killing-machine résumé a bit thin, remember he also knocked off a human or twenty in Bad Boys (1995) and Bad Boys II (2003).

Charles Bronson – Body Count: 77
The man known as Il Brutto in Italy is a killing-machine founding father, having perfected the form before action mayhem became commonplace. His work in The Great Escape (1963), The Magnificent Seven (1960), and Once Upon a Time in the West (1968) is to killing machines what Thomas Jefferson is to America. The kicker? The endless Death Wish series, in which Bronson spent the '70s, '80s, and '90s killing scum in order to avenge his murdered family.

Wesley Snipes – Body Count: 83
Snipes gets a spot in this elite club thanks mostly to one character. In the Blade trilogy, he annihilates an underworld of vampires. Bonus points are in order for killing with style, using cool martial arts, and embarking on some of cinema's finest murder sprees set to techno music. One would be remiss not to mention his work in Demolition Man (1993) as a murderer reeking havoc on a strangely peaceful future society.

Uma Thurman – Body Count: 84
How many characters have excelled in killing like the Bride from Kill Bill (2003)? Her showdown in the House of Blue Leaves with Lucy Liu's henchmen alone results in an impressive pile of dead. In the bloody sword fight, she kills yakuza after yakuza before taking up with Liu herself. If records were kept for a one-scene body-count total, Thurman would undoubtedly be in contention for the all-time record.

Antonio Banderas – Body Count: 89
While Banderas may not be your everyday action hero, the suave Spaniard has impeccable killing-machine cred. In Desperado (1995) and Once Upon a Time in Mexico (2003), he fought his way through innumerable bad guys and played a mean guitar. Lest you forget, he also laid down the fury in Assassins (1995) and The 13th Warrior (1999).

Chuck Norris – Body Count: 92
Norris earned his rep as an all-time great with Missing in Action (1984). If Colonel Braddock's dozens and dozens of dead Vietcong aren't enough, there's also Norris's legendary killing sprees in The Delta Force (1986) and Delta Force 2 (1990). Stallone and Schwarzenegger may have gotten all the headlines during the '80s, but the record shows that Norris had a pretty impressive decade himself.

Clint Eastwood – Body Count: 93
Eastwood has one of the all-time great killing-machine performances as the titular character in The Outlaw Josey Wales (1976), in which he achieved dizzying new heights of movie violence. Civil War kills not enough for you? In Where Eagles Dare (1968), he picked off so many Nazis that we lost count at 40. They aren't all righteous kills, either: in the Dirty Harry movies and Sergio Leone's Dollars Trilogy, he slays the opposition like nobody's business.

Sylvester Stallone – Body Count: 98
The man who would be known as the greatest action star of all-time if not for a certain West Coast governor, Stallone is also one of the all-time great killers. His kill count as Rambo alone is breathtaking to behold. If the Vietnam vet's exploits in First Blood (1982) and its sequel weren't impressive enough, he added to his tally in last year's bloodthirsty sequel.

Arnold Schwarzenegger – Body Count: 101
Arnold is the undisputed king of killing machines, bar none. Don't even bother counting the number of bad guys he kills in Commando (1985). Same goes for the killing spree in True Lies (1994). And wait — there's more: Total Recall (1990), The Predator flicks, Eraser (1996). The clincher? Arnold's work as an actual killing machine in The Terminator (1984). In pursuit of Sarah Connor (Linda Hamilton), he collects a ridiculous number of kills.

Read More