Uncategorized
Flashback Five – The Best Schwarzenegger Movies You've Never Seen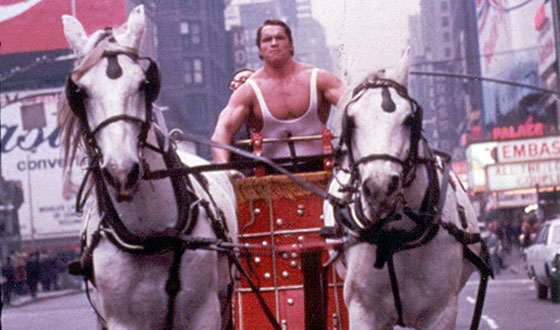 Utter the phrase "I'll be back" to anyone, and the person will instantly know you're quoting Arnold Schwarzenegger in any number of movies. Arguably the most famous California governor in history (only one jelly-bean-loving former president can compete for the title), Schwarzengger's movies and catchphrases are the stuff of legend. But what about the movies (and roles) you haven't heard about? Let's check out the five best that you haven't seen (and five honorable mentions).
1. Raw Deal (1986)
One might say this film got a raw deal. (Har.) Coming between the double punch of Commando (1985) and Predator (1987), this flick casts Arnold as a small-town sheriff seeking revenge. If the idea of the Governator slaughtering hundreds of mobsters in a gravel pit to the tune of the Rolling Stones' "Satisfaction" doesn't sell you on seeing this, you're not a true fan.
2. Red Sonja (1985)
Most Arnold fans rightly adore Conan the Barbarian (1982) and Conan the Destroyer (1984), but they've forgotten about his appearance in another Robert E. Howard adaptation, Red Sonja. In it, Arnold plays a sword-wielding barbarian (not unlike Conan) named Lord Kalidor who travels across a barren wasteland fighting evil.
3. The Villain (1979)
One of Schwarzenegger's earliest appearances on film was in this 1979 comedy as Handsome Stranger. Appearing opposite Ann-Margaret and Kirk Douglas, Arnold had his first brush with true stardom, though the movie itself was a flop. Fun fact: The rest stop in Terminator 2 is named after Kirk Douglas' character, Cactus Jack.
4. Stay Hungry (1976)
The first truly good movie Arnold starred in. Schwarzenegger plays against type here as Joe Santo, an Austrian bodybuilder trying to win the Mr. Universe contest. It's surprising that this movie preceded Pumping Iron by one year, as the fictional account and documentary account are basically the same. For Stay Hungry, he received a Best Newcomer Golden Globe.
5. Hercules in New York (1970)
Though he was cast under his stage name at the time, Arnold Strong, this is Schwarzenegger's first scripted role. Don't expect a revelatory performance; this is a movie to be filed under "So bad, it's good." But through the mess, Arnie shines.
Honorable Mentions:
1. Cars (2006) – Other than in his face-mapping role in this summer's Terminator Salvation, this is the most animated Arnie has ever been. Appropriately, he plays the voice of a yellow Hummer in California's capital.
2. Around the World in 80 Days (2004) – Most viewers skipped Jackie Chan's family-friendly Around the World, and thus missed Arnold's fierce turn as the Turkish prince Hapi.
3. The Rundown (2003) – In a "passing the torch" moment in Peter Berg's action-comedy, Schwarzenegger spies Dwayne "The Rock" Johnson as the former wrestler enters a club, and tells him to "have fun."
4. Red Heat (1988) – Released the same year as Twins, this other Arnie comedy casts the muscle man as a tough Soviet cop opposite James Belushi's wacky Chicago one.
5. Pumping Iron (1977) – Most people know that this documentary introduced Arnold to the world-at-large, but few have actually seen it. Also featuring a pre-Incredible Hulk Lou Ferrigno. This is an essential piece of Arnold-movie history.

Read More