40 Years On, Buzz Aldrin Addresses Mankind's Giant Leap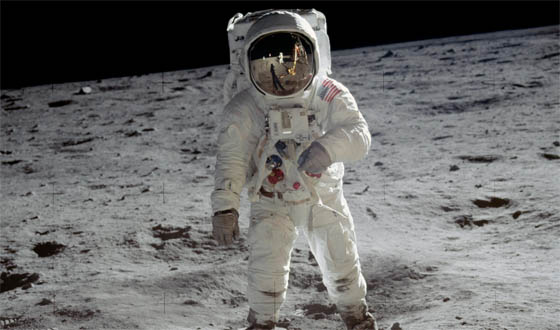 It was 40 years ago today that two intrepid astronauts — compelled by the momentous words of an assassinated president — stepped out on the surface of an alien but all-too-familiar celestial body and forever changed our conception of the Universe we inhabit. "That's one small step for man," the mission commander Neil Armstrong stated (an apocryphal misquote from his intended speech, "one small step for a man"), "one giant leap for mankind."
Of course, what started as one small step stayed relatively small, with only eleven men following him before the government's space program stagnated with an ill-conceived Space Shuttle and an even worse-conceived International Space Station. But hope springs eternal: With the Orion spacecraft under development and the Shuttles nearing retirement, man once more looks to catch up with its early explorations of the moon and meet the expectations of the countless science fictions they inspired.
AMCtv.com spoke to the mission's Lunar Module Pilot Buzz Aldrin (the second man on the moon) last year, during which time the astronaut commented on the current state of America's space program, looked to the future with the Orion program, and even explained why science fiction is no good for NASA.
Of course, Armstrong and Aldrin weren't the only Apollo astronauts whose moon shots inspired the world (not to mention countless Hollywood movies). Just two missions later Commander Jim Lovell and Pilots Fred Haise and Jack Swigert experienced one of the most serious disasters in the history of manned space flight when an oxygen tank ruptured during their voyage. The events which followed were dramatized in Ron Howard's 1995 movie Apollo 13.
AMCtv.com spoke to Jeffrey Kluger, the author of Lost Moon (on which Howard's adaptation was based), to learn a few things about the mission that the movie didn't have time to cover: Did you know that the makers of the LEM (Lunar Excursion Module) sent NASA a bill for "towing" their wounded Command Module back to Earth, or that NASA had a contingency to burn the spacecraft in Earth's atmosphere should the astronauts not have survived?
The events of those missions 40 years ago are wondrous enough for the most fantastic of scifi, made even more so by the realization that they actually took place. "What's going to inspire people?" Aldrin posits, looking forward to the coming years of manned space flight. Perhaps, Buzz, you're just the man for the job.
Click here to read AMCtv.com's interview with Buzz Aldrin.
Click here to read the Five Things You Didn't Know About Apollo 13.
Read More