Eastwood and The Duke Don't Just Know How to Shoot, They're Also Great at Goodbyes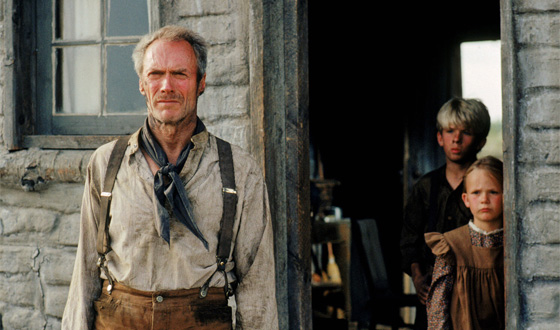 Film careers often end with a whimper. (Just look at the recent spate of action cheapies from a bloated Steven Seagal: 2008 marked five movies from the "actor, musician, martial artist, and philanthropist," and you haven't seen any of them.) But that isn't to say there aren't interesting, fitting, and unexpected roles to be found in many actors' latter-day careers — especially those who often called the Wild West their home.
Kirk Douglas in The Man from Snowy River (1983)
Kirk Douglas has his Eddie Murphy moment in this Australian Western, taking on dual roles as the eccentric old coot Spur and the evil rancher Harrison. While the movie showed that the Gunfight at the O.K. Corral star (then in his 60s) still had plenty of lust for life, critic Roger Ebert wasn't unduly impressed. "[Douglas] has a tendency to overact, and you're asking for trouble if you give him a beard, a pickax, a whiskey bottle and a wooden leg." Perhaps, but while the critics may have harped, The Man from Snowy River was popular enough with audiences to generate that rarest of trifectas: A sequel, a TV series, and an "Arena Spectacular."
John Wayne in The Shootist (1976)
The Shootist is often talked about as a classic last
performance, and there's good reason for it. John Wayne was the kind
of actor who was often conflated with the characters he played. He
wasn't simply a performer; he described a whole ethos. In this elegiac
Western, the parallels between fact and fiction couldn't be more
striking, or more sad: J.B. Books was an aging gunfighter dying of
cancer, Wayne (who played him) was an iconic Western star who would
succumb to the disease just three years later.
Jimmy Stewart in An American Tail: Fievel Goes West (1991)
Was the drawling star of Destry Rides Again and The Man Who Shot Liberty Valance tarnishing his legacy by lending his pipes to this animated kiddie flick? Not really. In fact, this American Tail
sequel is made of pretty stock Western material, the type of thing you
could imagine Stewart appearing in during his salad days — albeit with
critters in the leading roles. All in all, Stewart's tongue-in-cheek
voicework is a treat to his fans, and an infinitely more dignified
final bow than what the actor's ultimate performance would have
otherwise been: An episode of My Secret Identity, the lame '80s sitcom starring Jerry O'Connell as a kid with superpowers.
Clint Eastwood in Unforgiven (1992)
Sure, Eastwood's still keeping a furious pace as a filmmaker, but Unforgiven will probably be his last Western. Why? It's simply impossible to top. Like The Shootist,
it's a vivid portrayal of violence and aging that feels like it closes
a book on the Western genre as a whole. And considering that Eastwood
sat on the script for years before he felt he was old enough to play
killer-turned-pig farmer William Munny, it seems unlikely that he'd
strap on his holster and spurs again. All the same, here's hoping he
does.
Randolph Scott in Ride the High Country (1962)
Randolph Scott made this film in 1962, and he died in 1987 — therein
lies an interesting story. Scott was a common face in B-Westerns, but
along with his longtime roommate Cary Grant, he was notorious around
Hollywood for being something else: A cheapskate. Despite being a much
lesser star than Grant, Scott managed his money so well that by age 64
he had squirreled away over 100 million dollars. Whether or not
Randolph planned Ride the High Country as his swan song/retirement party, he couldn't have picked a better movie. It's one of Sam Peckinpah's best Westerns ever.
Click here for a complete schedule of The Man from Snowy River on AMC.
Read More