Web Stalker – Ghostbusters 3 Gets Green Light, Office Humor and Alyssa Milano!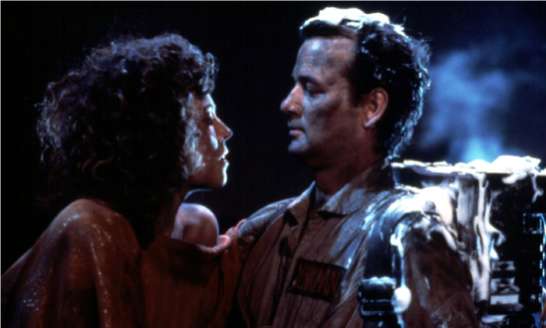 Has it really been 25 years since ghostbusters Spengler, Venkman and Ray first went 20th-century medieval on the incorporeal asses of wayward ghosts, zapping them with the poorly animated anti-spook pulses that emanated from their uber-geeky proton packs?
If recent chatter about the forthcoming Ghostbusters threequel isn't enough to get your refrigerator a-clattering, it's certainly sufficient to make anyone born before 1980 feel very, very old. But no matter: Any and all concerns about revisiting the vintage franchise are moot. Bloggers are blogging, critics are critiquing and regular folks are readjusting their world views to accommodate a second sequel to a throwaway diversion made a quarter of a century ago.
Movie lovers have wondered about the possibility of a franchise-redeeming threequel since 1989's dismal Ghostbusters 2 — remember all that ancient-warlord-trapped-in-a-painting bullcrap? But it wasn't until 2005 that any of the OGBs (Harold Ramis, Bill Murray and Dan Aykroyd) began talking seriously about forward. And the news was hardly encouraging: Ramis gabbed to a reporter that Aykroyd had come up with a script bearing the cringe-worthy title Ghostbusters In Hell. Um, thanks but no thanks.
Ramis also said that Aykroyd's original cheese-supreme premise (the Ghostbusters were literally transported to hell) had been reworked: Now hell was an alternate dimension, and that that was where the haint busting buddies wound up. Not much better, but A for effort, Ramis! Oh, and he wanted Ben Stiller to star. Fan reaction ranged from "3 is a crowd" to "Aykroyd and Ramis are geniuses!" to "How about bill murray as mayor?"
The genius of that last idea notwithstanding, the gossip mill calmed down after Ramis' over share and the rumor that Judd Apatow would be in charge of the new movie with favored Apatow sons Seth Rogen, Paul Rudd and Steve Carell donning the jumpsuits, died a quick and unlamented death.
By September 2008, Slashfilm had started a sizzling whole new frenzy with a post that declared: "CONFIRMED! The Office's Gene Stupnitsky and Lee Eisenberg Writing Ghostbusters 3." Slashfilm went on to endorse the pick: "I think Stupnitsky and Eisenberg's involvement will be seen as a plus. These are guys who probably love the original film[s] but [will] also appropriately update the material and tone."
Ghostheads (yes, that's really what they call themselves) were divided: Blogger Pajiba presented the news equitably enough, saying "I've got high hopes for Ghostbusters: The New Class." He was drowned out by haters: "Ghostbusters 3 sounds about as good as a Ben Hur 2: Roman Coliseum Boogaloo," one opined. Said another, "[W]ould it have Bill Murray? Or Rick Moranis? …their absence would shatter my heart into a thousand flaming marshmallow pieces. A third declared simply: "There is no Ghostbusters 3. There is only Zool."
Is it just me, or are Ghostbusters fans cleverer than many of their blog-frequenting bretheren? Discuss amongst yourselves.
At any rate, this week news straight from Dan Aykroyd's mouth silenced some of the more outlandish speculation: Production on Ghostbusters 3 could start as soon as this winter, he said, and all of the original cast (yes, including Sigourney Weaver) were on board to appear in some sort of torch-passing capacity. Aykroyd envisioned a new, five-member "second generation," and the cast that will include — wait for it! — females. You know… like, girls?! Who might those females be? Aykroyd mentioned two names, Alyssa Milano (a voice in the upcoming Ghostbusters video game) and Eliza Dushku. "I think they're amazing,' he said. 'And I'm excited about the whole idea of getting this done."
While there were plenty of lame responses in the "Female Ghostbusters = FAIL" camp, not to mention a vigorous discussion over at the movie's IMDB page on the topic of "Say NO to Ghostbusters 3!", others were more supportive of the news, such as New York Magazine's arts-and-entertainment blog Vulture, which asked readers "Who Should Play the Female Ghostbusters?"
SNL favorite Kristen Wiig dominated the proceedings, with shout-outs also going to every actress from Amber Tamblyn to Meryl Streep, along with one misguided vote for Bea Arthur from a commentator who was conscientious enough to ask, "Too soon?"
Answer: Yes. But kudos to you, Pennywise, for thinking outside the box!
Read More