Pick of the Week – Three Kings Shows Its Age in a Good Way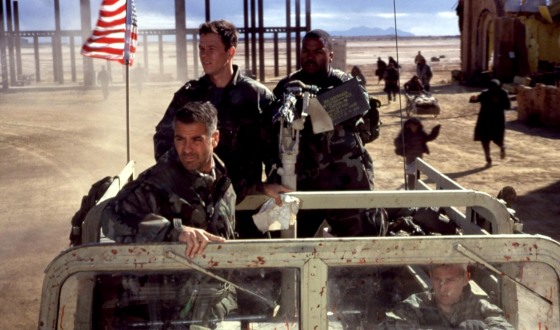 From big-budget blowouts to small scrappy indies, 1999 was a great year for movies. Just look at the hall of fame from that pre-millennial year: American Beauty, The Matrix, Being John Malkovich, The Sixth Sense, Boys Don't Cry, South Park: Bigger, Longer and Uncut, Fight Club, The Blair Witch Project, The Insider, Magnolia, Election and The Iron Giant. One movie from the class of 1999, though — David O. Russell's Three Kings — stands out as a work of lasting power not just because it looked to the Gulf War with an amoral eye, but also because you can see how prescient the movie is.
In fact, in light of all that's happened since Three Kings came out, you could almost say that it predicted the future.
Based on a slapdash script by John Ridley and extensively re-written by Russell, Three Kings is a movie where the plot is just the framework. Three soldiers (Ice Cube, Mark Wahlberg and Spike Jonze), bored in the aftermath of the Gulf War and tired of ambiguous orders, find a map showing the location of a stash of stolen Kuwaiti bullion. Special Forces man Archie Gates (George Clooney) gets on top of the men, the map and the plan, explaining that bullion is " … not the little cubes you put in hot water to make soup …" but instead a fortune in gold. Movie buffs will note a similar pitch from the Clint Eastwood caper Kelly's Heroes, but Russell's movie puts new dark delights in the details.
Take, for example, a scene where Mark Wahlberg's soldier is captured and tortured — sorry, "subject to enhanced interrogation." As Iraqi officer Said Taghmaoui jams Wahlberg's jaw open with CDs and pours crude oil into his mouth, you can hear the sound of chickens coming home to roost. Or the rueful exchange between an Iraqi refugee and Clooney: "George Bush get rid Saddam!" "Not exactly…." Or the way that Three Kings understood the nature of war in a new age of communication, where news crews are everywhere and you can make a cell phone call from the battlefield's brutality to the peace and quiet of home with the press of a few buttons. Three Kings may have a plot on loan from Kelly's Heroes, but the sensibility evokes Catch-22 and Dr. Strangelove, where war is as bizarre as it is brutal, and so terrible all you can do is laugh.
In all honesty, the final act of Three Kings felt like a bit of a let-down in 1999. The movie had a tacked-on happy ending that felt a bit forced, as if it was designed to make us forget that Saddam Hussein was still in power despite all the blood spilled and the money spent. But time, history and geopolitics made those objections immaterial, with the real world catching up to the movie. Yes, Saddam was still in power at the end of the first Gulf War; by the time a decade had passed, that wasn't the case anymore. Three Kings was a snappy, cynical, action-packed, wrenchingly funny portrait of the way we fight now that came during a great year for movies, but what makes it stand out these days is how history itself, for good or for ill, seems to have served as its sequel.
Click here for a full schedule of Three Kings showings on AMC.
Read More