The Ten, Like, Totally Most Hilarious Films of the '80s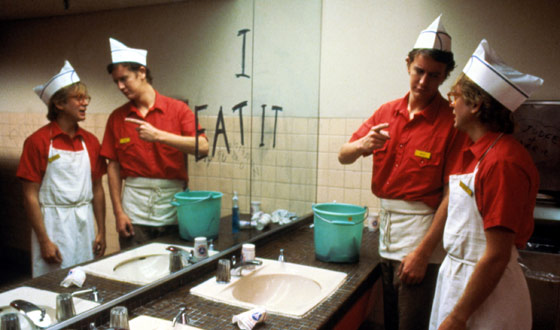 The '80s was a decade so packed with movie gems that it's nearly impossible to narrow down your favorites. Nearly impossible, but not impossible: Sure, there are some great movies that didn't make the cut here — Real Genius! Weird Science! — but in terms of the side-splitting, quote-generating, general '80s hilarity, this collection is about as good as it gets, from the first real mockumentary to one of the best parodies of all time. Take a look at the ten most hilarious comedies of the decade, and see if you can come up with any that fell through the cracks.

Airplane! (1980)
When Ethel Merman plays a male soldier who thinks he's Ethel Merman and June Cleaver translates jive, you know you've got a winner on your hands. Compared with today's lame attempts at parody (Scary Movie, Disaster Movie), Airplane! was pure genius. Case in point: "There's no reason to become alarmed, and we hope you'll enjoy the rest of your flight. By the way, is there anyone on board who knows how to fly a plane?"

Caddyshack (1980)
Caddyshack had an embarrassing wealth of comedy genius in its cast and crew: Chevy Chase, Rodney Dangerfield, Bill Murray, and director Harold Ramis. In one of the movie's funniest scenes, Chase and Murray bond over a joint made from the groundskeeper's special mix — of turf. Add to that a character named Lacey Underall and a persistent gopher who dances to Kenny Loggins, and you've got an unbeatable recipe for bizarre-slapstick success.

Fast Times at Ridgemont High (1982)
What would any '80s comedy list be if it didn't include a high-school movie or two? Fast Times' teenagers all have their moments, but Sean Penn's Spicoli is the funniest, equating life to a game of Pacman and blowing the reward money he gets for rescuing Brooke Shields to hire Van Halen to play his birthday party. There may be no more truly '80s movie moment than when he utters that most famous of stoner greetings: "Aloha, Mr. Hand."

Ferris Bueller's Day Off (1986)
Plenty of funny moments ensue when Ferris, Sloane, and Cameron play hooky from school — not the least of which is Ben Stein's role call after they go missing. But the really hysterical stuff falls to co-stars Jeannie Bueller (Jennifer Grey) and Mr. Rooney (Jeffrey Jones). Their altercation when Rooney tries to break into the Bueller home is comedy gold, from the grown-man-in-a-doggy-door gag to Jeannie's "scorching case of herpes."

Ghostbusters (1984)
Bill Murray, Dan Aykroyd, and Harold Ramis blasted their way through the box office with this ridiculous movie, which went on to become the most successful comedy of the '80s. The one-liners didn't stop from moment one: from Murray's sardonic, lusty Venkman to Ramis's Über-nerd Egon to Aykroyd's easily distracted Ray, the trio made up one of the best, most quotable comedy teams ever. All that, plus Rick Moranis as a possessed Key Master. What more could you ask for?

Planes, Trains & Automobiles (1987)
From Steve Martin's car-rental tirade (which made use of the f-word eighteen times in 60 seconds) to the diverted flight (destination: Nowhere) later in the movie, this is comedy that strikes its mark scene after scene. In one fell swoop, Martin and co-star John Candy took John Hughes's career beyond the teen dramedies for which he was known and produced one of the most respected films of the decade — comedy or otherwise.

Sixteen Candles (1984)
The title refers to a plotline revolving around the Molly Ringwald character, but it's Anthony Michael Hall and Gedde Watanabe (better known as Long Duk Dong) who steal the show. Hall's character may have never "bagged a babe," but he spouts some of the funniest lines of the movie. And the scene in which Watanable makes out with his Amazonian girlfriend on a wobbly exercise bike? It's practically the definition of classic.

Stripes (1981)
Another Ivan Reitman movie with Bill Murray and Harold Ramis, Stripes launched into high gear the movie careers of John Larroquette and Judge Reinhold. The mud-wrestling scene is still inspiring comedies today — though none have the same impact as John Candy getting his butt bitten (and beaten) by three blondes in bikinis. Now who's down for a hefty dose of the "Aunt Jemima treatment"?

This Is Spinal Tap (1984)
Rob Reiner coined the word mockumentary to describe This Is Spinal Tap, and the term stuck. As three band members who prefer to turn their volume knob up to eleven, Michael McKean, Harry Shearer, and Christopher Guest improvise their parts to deadpan perfection. One thing not ad-libbed, though, is the movie's most unforgettable plot device — that of the eighteen-inch Stonehenge descending from the sky that is "at danger of being crushed by a dwarf."

National Lampoon's Vacation (1983)
Want a collection of the funniest guys of the '80s? Look no further than National Lampoon's Vacation, starring Chevy Chase, Anthony Michael Hall, Randy Quaid, and John Candy. Just the sight of the Griswolds and their "metallic pea" station wagon should be enough to make you laugh. If not, moments like Dinky the dog's death, Clark's unlikely seduction of Christie Brinkley, and the tying of dead Aunt Edna to the roof of the car should do the trick.

Read More