The Man Who Shot Them All – The Top Ten John Ford Westerns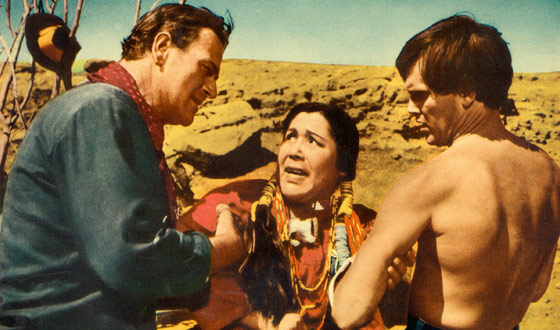 Director John Ford helped reinvent the Western, turning B-movie matinees into moral dramas that were steeped in the mythic grandeur of American history. Ford alternately envisioned an America that was a new Eden and a forbidding wasteland. Watching his Westerns is a bit like joining a long, rambling conversation about civilization and progress, solitude and sacrifice, violence and courage. Which one deserves the number-one spot on this top-ten list?
1. The Searchers (1956)
John Ford is at his most understated in this dark, austere fable, which tracks John Wayne as he searches for a niece kidnapped by Cherokees. The girl's gone native, and, at the end of his odyssey, he aims to kill her. Like Vertigo, the movie is driven by an obsessive quest but is less about plot resolution than conjuring haunting textures and enduring mysteries: the wind rasping across the desert, a solitary figure in a doorway.
2. Stagecoach (1939)
Stagecoach helped raise the Western's profile into A-picture territory. It's also the first of Ford's films to be shot in the region that would become his favorite stage, Monument Valley. And finally, it's the movie that marked the director's most important invention: John Wayne as Western icon. Of course, none of that would matter if Stagecoach weren't swimmingly good entertainment, which it is.
3. The Man Who Shot Liberty Valance (1962)
Ford questions his own role as a mythmaker in this Western, which considers the wavering line between truth and fiction, chaos and order. Jimmy Stewart plays an attorney who sets up shop out West and soon becomes a punching bag for the town outlaw, Liberty Valance (Lee Marvin). While Stewart later finds fame as Valance's killer, the truth is murkier than what appears in history books. Ah, the intrigue!
4. My Darling Clementine (1946)
The clash between civilization and anarchy has never been illustrated quite as succinctly as in Ford's reworking of the Wyatt Earp story. Tombstone is pictured as a quaint, all-American hamlet in the making, and Earp himself is less the rugged lawman than a reluctant disciplinarian who'd prefer to while away the hours on his porch, instead of spending all his time fighting those darn Clanton boys.
5. She Wore a Yellow Ribbon (1949)
The second entry in Ford's cavalry trilogy after Fort Apache features the Duke as a world-weary officer who must keep his fort safe from Indian attack. While the plot may seem pedestrian, the way it's handled is anything but. (It's notable for having no on-screen Indian deaths.) The movie is also hands down one of the most beautiful films in Ford's résumé, offering unforgettable Technicolor images of the American Southwest.
6. Two Rode Together (1961)
Who would be so blasphemous as to remake The Searchers? John Ford, that's who. Two Rode Together finds odd couple Richard Widmark and James Stewart tracking down whites raised as Indians to return them to the civilized world.
7. Sergeant Rutledge (1960)
Ford's heroes are never short on courage, and it must have taken a lot of it to make this picture. Sergeant Rutledge featured not only a black lead actor (Woody Strode), but also a plot in which a black officer gets falsely accused of raping and murdering a white civilian.
8. Rio Grande (1950)
This quasi-sequel to Fort Apache stars someone too often missing from Ford's Westerns: Maureen O'Hara. While the brassy redheaded phenom was a common co-star for Wayne, this was the only Western she made under Ford's direction.
9. 3 Godfathers (1948)
Though drunks, Irishmen, and drunken Irishmen often supply the comic relief in Ford's frontier, 3 Godfathers is the closest he comes to out-and-out comedy. Three bandits enter Three Men and a Baby territory when they decide to become godfathers to an orphaned infant while on the lam.
10. The Iron Horse (1924)
Sure, Stagecoach is considered one of Ford's early movies. But that hit's not even in the running: the director made over 50 films for Fox before he even set foot in Monument Valley! This cross-country silent about the making of the transcontinental railroad is one of the best of his early works.

Read More