The Brides of Horror Tournament: Meet the Engaging Contenders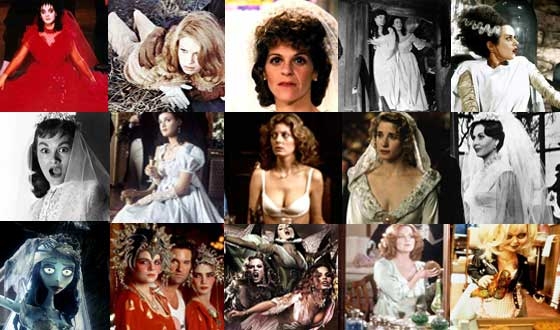 Spring has sprung, summer simmers, and that means it's time for millions of young ladies to fall prey to the money-sucking marketing machine that is the American wedding. You know, with all those must-buy "traditions" that began around 1984? Only Hallmark has done a better job of bastardizing love into a financial windfall. But I'm not completely unromantic, Dear Reader, because there is love in the air … along with the fetid stench of death. That's right, it's time for a new tournament: Horror Brides. Who is the most fetching of them all? Sort of depends if your tastes run to fresh or rotten, but both terrors of womanhood are well represented in this 16-contender tournament. Here are our contestants, ranked by seed.

1. Elsa Lanchester in The Bride of Frankenstein (1935)
"She's alive! Alive!" And for decades of horror fans, we can add. "She's hot! Hot!" Yes, my friends, that little white-streaked beehived dish has been an icon of horror and marriage (same thing?) since 1935. Look at her. And if you doubt her humanity, keep in mind that just minutes after she re-animates, she dumps the monster for the doctor. The more things change, the more they stay the same.
2. Susan Sarandon in The Rocky Horror Picture Show (1975)
Does Rocky Horror qualify as horror (its title notwithstanding)? I don't know. But this fetching fiancee puts the cold in cold feet. You know, "cold" as in "corpses"? Corpses being part of horror? Hello? Is this thing on? Genre puns aside, Janet is clearly a frontrunner. OK, so she didn't tie the knot, exactly, but clearly she's good to go with Brad, Frank-N-Furter and Rocky himself.
3. Silvia Colloca, Josie Maran, and Elena Anaya in Van Helsing (2004)?
Verona, Marishka, and Aleera … oh my. Three brides for the price of one, could it get any hotter or any more goth? Or is that "any more gothier?" At any rate, it's not the price of one, it's the real price you have to pay. Sure, a trio of Edwardian hotties decked out like Stevie Nicks back in the day is a sight to behold, but the "hickeys, three for one" sale leaves a bit to be desired. Big love for the horror set, this bride cubed action lands the No. 3 seed.?
4. Jennifer Tilly in Bride of Chucky (1998)
Jennifer Tilly is smokin' enough as it is, but drop her into three feet of plastic? Well hell, man, I'll be her friend till the end. This fourth installment of the Child's Play series sees the Chuckster heading down the aisle with a green-eyed demon doll. She'll kiss you, she'll cut you, she'll offer you up as a sacrifice. In short, before you trip down that aisle you better know she's stamped "Made in Hell."
5. Helena Bonham Carter in Corpse Bride (2005)
Ah, poor Emily. Just sitting there, rotting away like a good corpse when some dumb-ass comes along and puts a shiny ring on her decomposing finger. Too bad for you, Victor, that in the Land of the Dead that constitutes a wedding vow. (Oddly, the same rules apply in Kentucky.) Emily is a strong contender, in no small part because she's one of the good guys in a lineup of girls your mother warned you about.
6. Winona Ryder in Beetlejuice (1988)
Lydia, you teasing piece of jailbait. Just in case your first dose of Winona Ryder was as Spock's MILF mom in Star Trek, check out this 1988 flick showcasing her back in the days of skipping school and going Goth (way before Twilight). She may never tie the knot with Beetlejuice but she's still a Princess of the Underworld.
7. Nancy Travis in So I Married an Axe Murderer (1993)
In all of moviedom, there is only one hard-hearted harbinger of haggis, and that is Harriet, the bride in this cult classic comedy. She's an interesting contender because she's neither supernatural nor psychotic. Boring? A bit. Still, she's branded as Mrs. X, the woman who bumps off new husbands on their wedding night. Definitely, a fresh take on the ol' honeymoon boom-boom.
8. Kim Cattrall and Suzee Pai in Big Trouble in Little China (1986)
Why marry one Green-Eyed Girl when you can marry two for the same price? In short, there is no good reason. As the nefarious Lo Pan knows (as does director John Carpenter), you can't go wrong when you're doubling up with the likes of Kim Cattrall (Sex and the City) and Suzee Pai (fewer credits, just as hot).
9. Jennifer Beals in The Bride (1985)
Wait! Didn't we already do a Bride of Frankenstein? Well yes, but wasn't there already a Michael Myers, a Jason Voorhees, and a handful of Batmen? Welcome to the world of public domain that brought you Pride and Prejudice and Zombies. It's okay! The author's dead. No one will care! Honest! This time around Flashdance's Jennifer Beals takes a turn as horror's leading lady. What a feeling!
10. Joanna Lumley in The Satanic Rites of Dracula (1973)
Also known as Count Dracula and His Vampire Bride, this 1973 schlocker was a wild film way ahead of its time, combining one great Prince of Darkness (Christopher Lee), a bioterror plot (made in 1974, people) and a sappy love story featuring Joanna Lumley as the beautiful bride-to-be. Alas, she never acchieves marital bliss, proving "always the (undead) bridesmaid, never the (undead) bride."
11. Gilda Radner in Haunted Honeymoon (1986)
If you're too young to know who Gilda Radner is, shame on you for being born lately. Seriously. This wee little comedic genius was part of the original Saturday Night Live cast, and gave us home runs like Rosanne Rosanna Danna. She also took a turn as a horror bride Vickie Pearle in Haunted Honeymoon. She is set to marry Gene Wilder, and has to put up with a crossdressing Dom DeLuise — if that's not enough ofa reason to give her a shot at this title, I don't know what is.
12. Gloria Talbott in I Married a Monster from Outer Space (1958)
Flip back the wedding calendar to 1958 and you'll find Marge Bradley Farrell married to an Invasion of the Body Snatchers ripoff. Stuck in the American glory days that Tom Brokaw is always shoving down our craws, Marge is all about one thing and one thing only: Makin' babies. When she can't fulfill her maternal destiny, she starts snooping around and learns her man has a dark back story. Strangely, it's no comedy.
13. Barbara Payton in Bride of the Gorilla (1951)
Time for a serious throwback to 1951 and the sizzling bride portrayed by Barbara Payton. The romance here is hardly conventional as Payton's Mrs. Dina Van Gelder winds up the love interest of a … get this, now… were-Gorilla. No joke. Still, it's Barbara Payton. Enough for a seed in the tourney.
14. Madeline Kahn in Young Frankenstein (1974)
You can't do a Horror Bride tournament without the stunning Elizabeth from Young Frankenstein: No. 14 is one of the genre's greatest comedic creations. She starts out engaged to Dr. FRANK-un-shteen, ends up married to the monster. And if you've seen the film, you know I'm talkin' a very happy ending…
15. Yvonne Monlaur in The Brides of Dracula (1960)
Yes, I know there's a more recent Bride of Dracula in contention but these ladies are the original BoDs. This is one crazy Dracula flick, namely because there's no Dracula in it. Instead there's a lot of dead/living and dead/dead swingin' going on in this one. It's classic Hammer circa 1960. It's got to go in.
16. Hazel Court in The Premature Burial (1962)
This one's a stretch. Consider her the dark horse. Emily Gault (old-school Scream Queen Hazel Court) is a gold-digger out to land herself a trophy husband. Unfortunately, that man is wacked-out Guy Carrell (Ray Milland) who's convinced that he will someday be buried alive. As you know, No. 16 always has a slim chance against No. 1. So let's acknowledge that the lavender dresses on Gault's bridesmaids are simply delicious.
Read More