Sigourney and Cameron. Depp and Burton. Who's SciFi's Actor-Director Dream Team?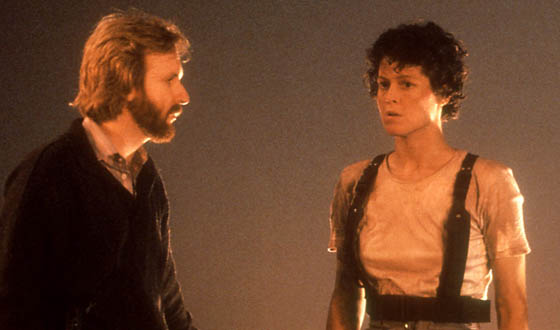 Movies are about collaboration — hundreds of people laboring intense, long hours to entertain audiences. Is it any wonder a lead actor and director often bond over the work and decide to work together again and again? Let's look at the most artistically profitable pairings in scifi.

10. James Marsden and Bryan Singer



The clean-cut Marsden is more likely to be playing the jerk boyfriend in a romantic comedy than inspiring a talented filmmaker. But that's just what he's done with Bryan Singer, having starred as Cyclops in X-Men (2000), and X2 (2003) — granted, playing the jerk boyfriend. Then there's Superman Returns (2006), which finds Marsden playing the non-jerk (but still kind of a jerk) boyfriend to Lois Lane. One wonders how Singer will use Marsden in the future…
9. Harrison Ford & George Lucas



Ford was working as a stagehand when Lucas cast him in a small, but pivotal role in American Graffiti (1973). Then in '77 Lucas made him Han Solo in Star Wars (maybe you've heard of it?), solidifying their working relationship. When Lucas was looking for a leading man in his serial throwback Raiders of the Lost Ark (1981), there was only one place he looked. Though Steven Spielberg directed the next three Indy follow-ups, Lucas and Ford maintained their close working relationship throughout.
8. Carla Gugino & Robert Rodriguez



Robert Rodriguez is fiercely loyal to his crew of devoted Austinites, so it's no surprise he'd work with the same cast again and again. One of those is Carla Gugino, who despite not being a Texan, appeared in all three Spy Kids movies as spy mom Ingrid Cortez, and as the doomed Lucille in Sin City. Her untimely demise in that picture is probably the only thing preventing Rodriguez from bringing her back for Sin City 2 and 3.
7. Simon Pegg, Nick Frost and Edgar Wright



Sometimes an actor director duo is actually a trio. That's the case with Simon Pegg and Nick Frost and their frequent collaborator, director Edgar Wright. In their ground-breaking Brit-com Spaced, the team referenced everything from Star Wars to Star Trek. That show's offspring was Shaun of the Dead, their 2004 zombie rom-com. Their most scifi piece of all is coming in 2010 with The World's End, which will do for disasters what Shaun of the Dead did for zombies.
6. Ron Perlman and Guillermo del Toro



Character actor Perlman struggled for years in direct-to-DVD and genre fare until his first collaboration with Guillermo del Toro in the comic book movie Blade II (2002). The director clearly saw the appeal of the massive Perlman, slathering him with red makeup for Hellboy (2004) and its sequel Hellboy II: The Golden Army (2008), which rocketed both artists to A-list status. Chances are they'll team up for Hellboy III before too long.
5. Kurt Russell and John Carpenter



In Escape From New York (1981) Kurt Russell found his second wind as an actor while John Carpenter found a new level of director fame. Let the good times roll: Their collaboration continued with a remake so successful everyone forgets it was a remake — The Thing (1982) — and then with Big Trouble in Little China (1986). Their final team-up was the somewhat less successful Escape From L.A. (1996), but fans are still hoping for more greatness to come.
4. Johnny Depp and Tim Burton



Weird likes weird. Before Depp became one of the biggest stars in the world he appeared in Burton's pitch black fantasies like Edward Scissorhands (1990) and Sleepy Hollow (1999). They even hatched a feature length tribute to scifi shlockmeister Ed Wood in Ed Wood (1994). Lately Depp and Burton churned out the haunting Charlie and the Chocolate Factory (2005) and will tackle Alice in Wonderland in 2010. Chances are it will be strange and scary.
3. Sigourney Weaver and James Cameron



Cameron has a habit of working with the same actors time and again — Michael Biehn shows up in three of Cameron's scifis — but his most interesting relationship is with leading lady Sigourney Weaver, who he jacked up from the cheesecake/haunted house girl of Alien into a classic action hero in Aliens (1986). Cameron hasn't made fiction in over a decade, so with this year's Avatar marking his triumphant return to scifi, he brings with him the actress responsible for one of his greatest successes.
2. Bruce Campbell and Sam Raimi



Sam Raimi has two good luck charms: His yellow Oldsmobile Delta Royale, and Bruce Campbell, who has appeared in nearly every one of Raimi's movies, including the Evil Dead series (Evil Dead, Evil Dead II, Army of Darkness), cameo roles in every Spider-Man movie and an especially memorable turn in the superhero noir flick Darkman (1990). You can be guaranteed at the very least that Campbell will continue to torment Peter Parker in next year's Spider-Man 4.
1. Christian Bale and Christopher Nolan



Bale and Nolan are quite possibly the biggest actor/director duo in the world, beginning with their collaboration on Batman Begins (2005). They took a small side trip for the steampunk magic tale The Prestige (2006) before returning to Batman with The Dark Knight (2008). The pair is on a scifi break from each other (Bale with Terminator, Nolan with his $200 million epic Inception), but will reunite for the sequel to The Dark Knight sometime in 2011.

Click here for a complete schedule of Aliens on AMC.
Read More