Scott Sigler – Horror 30/20/10, Aliens, Ghosts, Witches and Motion Sickness
Summer vacation? Maybe for some. But not you, you truant little bastard. It's detention for you, and in detention we talk history. But fret not: It isn't the history of dudes in white wigs and knee socks. It's the history of horror movies. Time again for a retrospective look at this wonderful industry we all love, and how better to start than with a flick that changed horror cinema forever …
Thirty Years Ago – Alien (May 1979)
It's hard to measure Alien's impact: Director Ridley Scott combined horror and scifi, using the isolation of deep space to paint a tale of terror that had audiences guessing and gasping. Pitched as "Jaws in space," Alien got financing thanks to the smash success of Star Wars in 1977. At $9 million, Alien was expensive for its time, but paid off big for 20th Century Fox, grossing $208 million to date. Alien has out-earned the sequel, 1986's Aliens, another landmark mix of hard scifi and brutal horror; it cost $17 million and has earned $183 million to date. Alien won a best visual effects Oscar and launched the career of Sigourney Weaver, who ten years later starred in another horror-related blockbuster…
Twenty Years Ago – Ghostbusters II (June 1989)
This highly anticipated combination of much-needed sequel and major star power splashed across screens like a river of ectoplasm as Weaver, Bill Murray, Dan Aykroyd, Harold Ramis, Ernie Hudson and Rick Moranis reunited to battle supernatural baddie Vigo the Carpathian. How highly anticipated was this flick? It set the record for biggest three-day weekend gross in Hollywood history with $29 million. That's how. Granted, the record lasted one weekend, just until Tim Burton's Batman opened and hauled in $40 million in three days. But it was still a hell of an accomplishment for a funny film about ghosts and proton accelerators.
Twenty years after Ghostbusters II's mad run at the bank, we're still waiting for the third installment, but word is it's coming soon. And while you can see the ghosts in Ghostbusters II, it was spirits you couldn't see that took the world by storm a decade later …
Ten Years Ago – The Blair Witch Project (July 1999)
The world's first major "is this a real story?" Internet phenomenon, The Blair Witch Project rode a budget of $35,000 to a to-date gross of $248 million. Yes, I said "$35,000," and no, I didn't leave off some zeroes. The movie's brilliance was baking the limited budget into the story — it's about college filmmakers with crappy equipment, so it looks like it's shot on crappy equipment.
The movie scored two real breakthroughs, the first being its "hey, it's shot by real people like it's really happening" approach and the second its alternate-reality seeding of the Internet: Long before the old-school advertising started, millions of people had heard of Blair Witch via online stories about "that documentary" that was floating around. The angle gave this little-movie-that-could huge buzz that translated into a $1.5 million opening weekend. It flat-out scared the crap out of enough people that the second weekend brought in $1.9 million; Blair Witch then shot up to the number two movie in America with a third-weekend gross of $29 million, a take it matched the following weekend.
The "you are there" style has been copied in such movies as Cloverfield, [REC] (re-shot as Quarantine) and Diary of the Dead, and many people attribute the birth of "shakey cam" to Blair Witch. But true horror aficionados know the shakey cam's true origins: It was spawned by 1983's Evil Dead.
Please walk to the aisle before vomiting …
So there you go, lesson learned: You thought all that theater-based motion sickness was the fault of The Blair Witch Project when the real culprit is Drag Me to Hell director Sam Raimi. Now get a mop and clean it up. This is detention, you miscreant, not your mommy's house.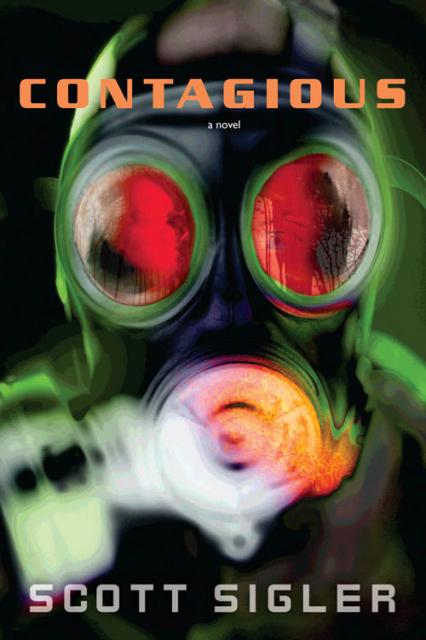 New York Times best-selling author Scott Sigler writes tales of hard-science horror, then gives them away as free audiobooks at www.scottsigler.com. His latest hardcover, CONTAGIOUS is in stores now. If you don't agree with what Scott says in this blog, post a note in the comments section below. Please include all relevant personal information, such as your address and what times you are not home, so Scott can come visit and show you his world famous "Chicken Scissors."
Read More