Remembering Michael Jackson: The Man, His Music and the Movies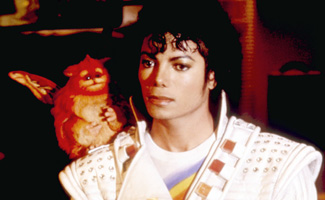 Pop sensation Michael Jackson died yesterday at the age of 50. And while Michael's musical legacy remains virtually unmatched in the music world, movies were also a passion for the multi-talented, multi-platinum performer. To that end, The King of Pop repeatedly enlisted top Hollywood directors (Francis Ford Coppola, Martin Scorsese, John Landis, John Singleton) in his quest to further the concept of music video as short film. There's no quantifying the cultural impact of the videos for "Thriller" and "Billie Jean" — as anyone born before 1980 can attest — but Jackson's influence on the medium went far beyond that. On soundtracks spanning from Revenge of the Nerds (1984) to 13 Going on 30 (2004), Jackson's song bring a buoyant spark to scenes that simply wouldn't have been the same without them.
To see how much you recall of his prodigious output, take this Michael Jackson and the Movies quiz in honor of the passing of an artist who contributed so much to both music and the movies.

Read More