Uncategorized
Q&A – Larry David Won't Be Doing Woody for Whatever Works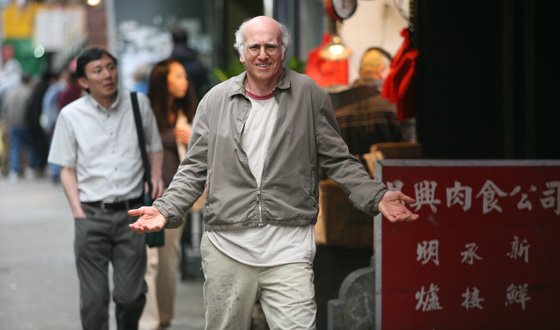 Whatever Works" width="560″/>

You might think Woody Allen wrote the part of misanthropic Boris Yellnikof just for Larry David — but when the director first conceived Whatever Works decades ago, he was thinking of the late comedian Zero Mostel. When a possible actors' strike loomed, Allen took the long-forgotten script out of a drawer and freshened it up — and then tried to imagine who would be his lead. David slips into the role with more than a little enthusiasm.
Q: Of all the men who've stood in for Woody Allen — John Cusack in Bullets Over Broadway, Kenneth Branagh in Celebrity, Will Ferrell in Melinda and Melinda — do you think you make the most sense?
Q: So you weren't thinking that Boris equals Woody, or Boris is Woody plus Curb Your Enthusiasm Larry? Because you almost make Larry on Curb look like Ghandi compared to Boris.
A: [Laughs.] Yes, I know! Boris is a little more acerbic of a character than I play on the show. Although I do think people get the wrong impression. I don't agree with people's assessment of the character of the show, people who think he's cranky, a curmudgeon. I don't feel that way at all. He's just honest and he gets in a lot of confrontations as a result. But I think he has a good disposition, as do I. I'm very sunny.
Q: Mostly, he's just misunderstood.
A: I think he's just misunderstood, yes! I do.
Q: Martin Scorsese made a cameo on Curb in Season 3; the rumor is that Woody will make a similar appearance in the forthcoming season to return the favor of you being in his movie.
A: [Laughs] Well, yeah, of course I would want him to, but no, that's probably not going to happen. I would never ask him to do that.
Q: Even though he's repeatedly asked you to be in his movies? This marks your third, after Radio Days and New York Stories…
A: That's a little different [laughs].
Q: You had smaller parts in those movies. Was making the leap to a lead hard for you, considering you're more of an improv guy?
A: Yeah, it was hard. I am used to improvising on the show. I never really had to memorize lines, and so many of them before — unless I was memorizing the Declaration of Independence in the sixth grade, and that came easy to me then. It was kind of a daunting process to memorize all that material and then to render it like an actor.
I tried to convince Woody sometime before we started shooting to change the character's occupation from a physicist to a former grand master, a chess champion, because I didn't want to be a physicist. I didn't think I'd be able to improvise, because the character is so much smarter than I am. I had to spend a lot of time working on it. No social life.
Q: Do you want to do more movies, do more leading parts?
A: When I was first offered this part, I thought, "This is not a good thing." I was intimidated, so I called Woody and said, "I don't know about this." He said it would be a stretch for me, but nothing that I couldn't handle. And I did. So sure, I would open to doing more.
Q: What would your dream role be?
A: I just did it, I think.
Read More