Uncategorized
Q&A – Francis Ford Coppola on How He Became His Own Boss (Again) for Tetro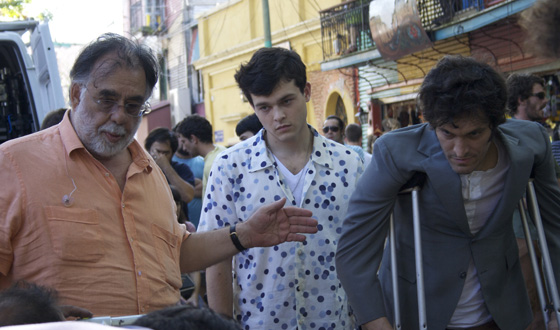 Tetro" width="560″/>

Francis Ford Coppola's latest film, Tetro is a passion project. Shot in Argentina in black and white, the movie stars Vincent Gallo and newcomer Alden Ehrenreich as brothers in what may be the director's most personal film yet. He explains…
Q: La Boca, where you shot in Buenos Aires, is a very colorful area — an unusual choice for a black and white movie.
A: Black and white is misunderstood. La Boca has the red, green, and blue, which may or may not be desirable, but it also has great textures. You don't often get to choose black and white because there's a real penalty to it, because television executives will only pay half to put a movie on television if it's in black and white.
A: I guess it could have all been in English, but we went to Sicily, and while it wasn't always possible to shoot every sequence there, it would have been crazy not to have some authenticity. You make a million decisions in a film — and when you don't know, you ask yourself, "What fits the theme?" Most of the time I've already distilled that down to one word. For example, in The Conversation, they asked, "Here are five raincoats. Which one do you want?" And I picked the one that was transparent, because that echoed the theme: Privacy.
Q: What were some of your other themes? Say, for Peggy Sue Got Married?
A: I looked at Our Town, and the heart of that movie, the nostalgia, touched me. But that was a time when I was making a movie every year just to get out of debt.
Q: And now, you can do work on what you love.
A: When I wrote The Conversation, nobody would give me the financing. Economic reality forced me to take a job, and that turned out to be The Godfather. It changed my life. I was able to make The Conversation, but there was this pressure to make sequels to The Godfather. I said, "It's a drama, not a serial. Why would you make more?" To make money. But even with that success, I wasn't able to do Apocalypse Now. I had to put my own money into it, and I went into bankruptcy.
I reached the point where I thought, "Gee, my daughter [Sofia Coppola] can go off and make a $3 million movie on her own terms, and she learned that from me, who learned that from Roger Corman… so why don't I just do that?" It turned out quite by accident that I was making a lot of money in the wine business, so I thought, "Why don't I just take the money and go make a movie?"
Q: Youth Without Youth, you didn't write… Tetro, you did.

A: I picked a story by a great author, and went off to Romania and made this nutty film. But I don't know if people want to see films about the nature of existence and consciousness. I think they want to see movies that are more emotional, more moving. So then I thought, "What moves me, if I have to sit and write it?" And I remembered all the family stuff that could be applied to a family like mine, full of musicians, actors, creative people. And I started to learn why I was making a story about a boy who goes to see his brother who he thinks has abandoned him…
Q: It echoes Rumble Fish…
A: There's a link. In Tetro, I am Bennie, because I was the younger brother, and I did run away from military school, and I did idolize my older brother. But there's also something of me in the father, and the brother. My own story is different from what I wrote about, but there are metaphors in the relationships. Just like I'm George Lucas' older brother, and his father, too.
Q: Now that your career is on your own terms, what's next?
If you look at my films, I'm pretty shy about things relating to sex. It's because it's very powerful, and I would feel wrong to just throw in some sexy stuff. I wonder, "Am I prude? Am I afraid to express how I feel?" So I would be curious to write about phobias and sexual understanding. When you write a script, it should be about something you want to learn about.
Read More