Now or Then – Year One or History of the World Part I?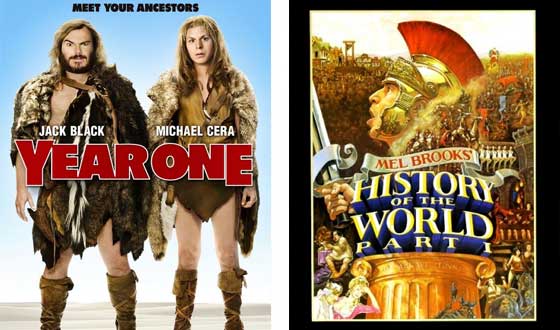 Year One or History of the World Part I?" width="560″/>
Now: Year One
(2009)Then: History of the World Part I (1981)
For whatever reason, modern-day comedians love to take digs at the ancient world: Judd Apatow and Harold Ramis' Year One, about a couple of hapless hunter-gatherers straying into the world of the Old Testament, indulges gleefully in anachronistic humor about courtships and circumcisions, while also sprinkling on a liberal dose of the usual gruesome slapstick and fart jokes. As such, it recalls another veteran comedian's take on the distant past, Mel Brooks' cult classic History of the World Part I, with its acres of jokes about male members, fey Centurions, flatulent Caesars, and dancing Spanish Inquisitors. So which historical romp romps the hardest? Read on to find out…
Slacker Heroes Stuck in the Past
Year One: Zed (Jack Black) is a slacker hunter whose incompetence leads to his banishment from the tribe. Together with his friend Oh (Michael Cera), a gatherer with a sensitive, emo vibe, they flee their fellow villagers and try to jump-start a new civilization.
History of the World: Comicus (Mel Brooks) is a stand-up philosopher (aka comic) who is down on his luck. Together with his loyal agent Swiftus Lazarus (Ron Carey) and Josephus (Gregory Hines), a pot-smoking, tap-dancing Ethiopian slave, they have to make a break from Caesars Palace.
Winner: Year One. Zed and Oh are a comically mismatched duo, whereas the Borscht Belt stylings of Comicus now feel heavy-handed and lame.
Fun with Bodily Functions
Year One: In pursuit of civilization, Zed smells and tastes some feces by the road to determine who has passed by; later, when they're imprisoned, Oh is chained upside down, whereupon he urinates all over his face.
History of the World: The first critic judges the first cave painting by peeing on it. Later, we are introduced to a Garcon de Pisse (Mel Brooks), a man who carries a bucket into which royals may relieve themselves in the court of King Louis XVI.

Winner: A tie. Poop and pee? Seriously? Can't we do better than this?
Conniving Royalty
Year One: Princess Inanna (Olivia Wilde), a Prime Minister (David Pasquesi), and a High Priest (Oliver Platt) are all looking out for number one in the Kingdom of Sodom, eventually leading to chaos.
History of the World: In an attempt to save King Louis XVI (Mel Brooks) from the impending French Revolution, the Count de Monet (Harvey Korman) arranges for the monarch to switch places with the Garcon de Pisse.
Winner: History of the World. The convoluted schemings of Sodom never really make any sense.
Verdict
Winner: Year One, but just barely. The gags in History of the World felt way fresher a generation ago. Who knows how Year One will hold up 30 years down the road?
Read More