Now or Then – The Hangover or Old School?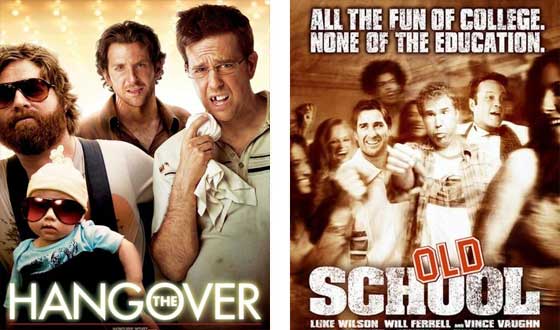 The Hangover or Old School?" width="560″/>

Now: The Hangover
(2009)Then: Old School (2003)
Director Todd Phillips appears to have cornered the market on the guys-being-boys genre. His 2003 comedy Old School gave us a bunch of thirtysomethings who started their own frat to avoid moving out of their new party house; His latest, The Hangover, gives us a bunch of thirtysomethings who go to Vegas for a bachelor party, lose their groom-to-be best bud, and are forced to retrace their steps through a night of debauchery they've all managed to forget. So how do The Hangover's party animals compare to Old School's?
A Fast-Talking Married Man Jonesing for a Good Time
The Hangover: Alhough — and possibly because — he's married with children, Phil (Bradley Cooper) is the prime mover of the group, goading the others along and — when everything gets upended — taking charge.
Old School: Beanie (Vince Vaughn) may love his wife and young children, but he's also determined to sow his oats by partying with college kids, which leads him naturally to start a new frat.
Winner: Old School. Phil's a fine straight man, but Beanie's "don't get married" shtick during the film's wedding scene is one for the ages.
An Oft-Naked Man-Child
The Hangover: Socially
awkward doesn't quite begin to describe Alan (Zach Galifianakis), a
shlubby, scruffy, and slightly dim bulb who spends much of the film
pants-less.
Old School: Frank "the Tank" (Will Ferrell) is a
happily domesticated newlywed who, once he tastes the sweet elixir of
beer on his lips, turns into a rampaging, streaking, screaming party
animal.
Winner: A tie. Alan is weirder, Frank is nakeder, but
both are hilarious. Alan should do for Galifianakis's career what Frank
did for Ferrell's.
Musical Interludes
The Hangover:
Trying to lull a tiger to sleep (don't ask), Stu (Ed Helms) sings a
mournfully hilarious song about their predicament. Later on, the Dan
Band and frontman Dan Finnerty enliven a wedding with their foulmouthed
songs.
Old School: The Dan Band show up at the beginning,
lighting up another wedding with their NSFW version of "Total Eclipse
of the Heart." Later, when a 90-year-old pledge dies, Hank does a
haunting rendition of "Dust in the Wind" at his funeral.
Winner: The Hangover. Stu's song is actually kind of great. You can listen to it here.
Verdict
Winner: A tie. Adult male regression means never having to choose between a frat house and Vegas. Make it a double feature.
Read More