Now or Then – Drag Me to Hell or The Grudge?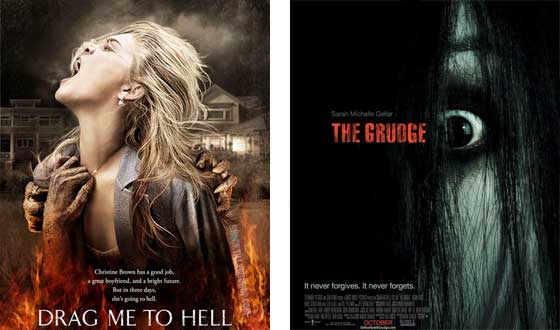 Drag Me to Hell or The Grudge?" width="560″/>

Now: Drag Me to Hell
(2009)Then: The Grudge (2004)
While both Sam Raimi's Drag Me to Hell and Takashi Shimizu's The Grudge (which Raimi produced) are horror movies that center around curses, they employ two different approaches to generate thrills: The Grudge goes for an understated, puzzle-like structure, whereas Hell goes to town with the pyrotechnics and gives us CGI demons that throw its heroine around like a rag doll. Still, as modern-day horror flicks, they do share a lot of common DNA. Which of these fright-fests should you let into your nightmares?
Sweet Girls With Smart Boyfriends
Drag Me to Hell: Christine Brown (Alison Lohman) is a kindhearted loan officer who's a bit too compassionate for her job. She's also insecure that her psych-prof boyfriend Clay's (Justin Long) parents don't think she's good enough for him.
The Grudge: Karen Davis (Sarah Michelle Gellar) is a kindhearted part-time social worker who has moved to Japan to be with her boyfriend Doug, an architecture grad student.
Verdict: Drag Me to Hell. Christine is an admirably developed, full-blooded character with an honest-to-goodness character arc. Shocking!
A Devilish Curse
Drag Me to Hell: A scorned and
shamed gypsy woman (Lorna Raver) puts a spell on one of the buttons of
Christine's coat (seriously), thereby condemning her to be followed by
demons and apparitions for three days before being dragged into Hell.
The Grudge: A
supernatural force is born when someone dies in the grip of powerful
rage or sorrow, and is then passed along by its victims to their
victims.
Verdict: Drag Me to Hell. We'll go with the old-school bluntness of this one.
One Persistent Demon
Drag Me to Hell: The Lamia is an ancient, goat-like beast who transports people to hell. It torments and brutalizes Christine at every turn.
The Grudge:
Kayako is a woman who was killed by her husband years ago, and now
haunts those who enter the house they once lived in — including poor
Sarah Michelle.
Verdict: The Grudge. All that black hair is totally creepy. At least it was, before every other horror movie started featuring it too.
The Winner
Verdict: Drag Me to Hell. The subtle tension of The Grudge is admirable, but it's hard to resist the over-the-top horror theatrics of Hell. Raimi's back!
Read More