Mary Robinette Kowal – Ten Fantasy Fathers Who Really Do Know Best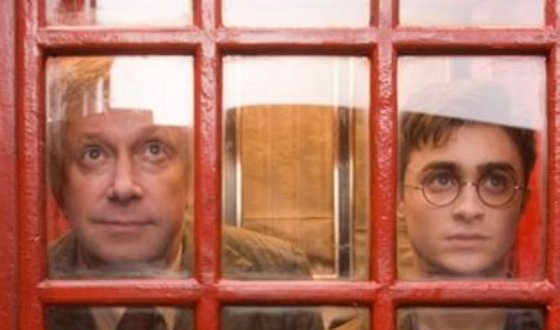 This Father's Day, I thought we'd look at some of the best dads in fantasy. Not so easy since they usually get a bad rap, portrayed as the deadbeat or (gasp!) the villain. But dads can be fantastic too, guiding our heroes along the path to glory.

10. Jack Aarons, Bridge to Terabithia (2007)
A lot of folks have a dad just like Mr. Aarons (Robert Patrick), who seems standoffish and overly strict. All Jess (Josh Hutcherson) wants is for him to pay attention, but it's not easy for a guy who only speaks macho. But when Jess's best friend dies, who do you think is the one to pull his son back together?
Con: Too tough
Pro: Drops the act in times of crisis

9. Larry Daley, Night at the Museum (2006)
As a divorced dad (and kind of a loser), Larry Daley (Ben Stiller) provides almost no reason for his son to look up to him. That is, until he finds his calling by shepherding magical museum exhibits all night. Sometimes, a dad has to find his place in the world before he can be a role model.
Con: Can't hold down a job
Pro: Knows how to handle a T-Rex
8. Cedric Brown, Nanny McPhee (2005)
There are times when the smartest thing a man can do is acknowledge that he's not man enough for the job — especially when "the job" is seven unruly children. So Cedric Brown (Colin Firth) hires Nanny McPhee (Emma Thompson) to look after his offspring. Hmm, a magical Emma Thompson. Now that's a smart man.
Con: Workaholic
Pro: Knows a good thing when he sees one.

7. Geppetto, Pinocchio (2002)
Look, Geppetto didn't plan to be a dad. It's just this enchanted block of wood came into his life and he made a puppet from it. But does he shirk his responsibilities to the life he created? No. He sells his coat to provide for him! He travels the world to rescue him! I know dads who wouldn't do that for their real kids.
Con: Totally broke
Pro: Puppet-maker! You know I love that.

6. Edward Bloom, Big Fish (2003)
I joke that I don't wonder if my dad will embarrass me, only when. Edward Bloom (Albert Finney/Ewan MacGregor) has the same effect on his son William (Billy Crudup), who waits too long to get over the embarrassment of his dad's tall tales to appreciate them. Ask your dad about his youth: He might turn out to be more remarkable than you'd believe.
Con: Embarrasses you — all the time
Pro: Turns out he (sort of) tells the truth

5. Papa Elf, Elf (2003)
Adoptive parents are amazing people. Papa Elf (Bob Newhart) does his best to raise a son who's different from other elves. Despite Buddy's (Will Ferrell) special needs, Papa Elf loves him and protects him — and knows when to let him go back to the real world and his human family. It's not easy, but that's what a dad does.
Con: Too small to carry you
Pro: Still lets you sit on his lap

4. Mo Folchart, Inkheart (2008)
Mo Folchart's (Brenden Fraser) magical word of mouth brings things out of books, which sounds awesome, except when he conjures up villains. But he makes up for it by doing everything in his power to save his kidnapped daughter. Kudos to a dad who encourages reading and fixes his mistakes.
Con: Afraid to read to you
Pro: Gives you space to develop your own magical talents

3. Robert Philip, Enchanted (2007)
As a single dad in New York, Robert Phillip (Patrick Dempsey) doesn't do a bad job of caring for his daughter: He sends her to the best schools, he even reads to her. Very patient. But the thing that makes him a great dad is he consults his daughter when he decides to remarry — even though his future bride is a princess.
Con: Doesn't like fairy tales
Pro: Willing to turn life into a fairy tale anyway

2. Arthur Weasley, Harry Potter (2007)
Yes, I know I talked about Mrs. Weasley on Mother's Day, but they make a great team. Sure Mr. Weasley (Mark Williams) isn't able to buy his children the nicest things, but he's an endearing collector of Earthly trinkets, he's unabashedly proud of his kids and he fights Death Eaters — all while holding down a 9 to 5 job.
Con: Embarrassing fascination with Muggle technology
Pro: Fiercely loyal to his friends and family

1. Dr. James Harvey, Casper (1995)
You know that moment when people ask what your father does? Dr. Harvey (Bill Pullman) has the coolest job ever: He's a therapist to the dead. Not only is he an upstanding guy who takes his job seriously, he also includes his daughter in every aspect of his life — even the spooky ones. Plus, c'mon! Ghost doctor!
Con: Travels a lot
Pro: Deftly handles most paranormal situations
Two other father figures deserve honorable mentions here: Grandpa (Peter Falk) in The Princess Bride reads his grandson one hell of a story, and Doc Brown (Christopher Lloyd) in Back to the Future reminds me of my dad. Any fantasy dads you'd care to mention? Do so in the comments, and be sure to check out John Scalzi's column rating science fiction fathers.

Mary Robinette Kowal is the winner of the 2008 John W. Campbell Award for Best New Writer and a professional puppeteer. Her first novel Shades of Milk and Honey is being published by Tor in 2010.
Read More