John Scalzi – SNL Actors Plus SciFi Movies Equals Box Office Death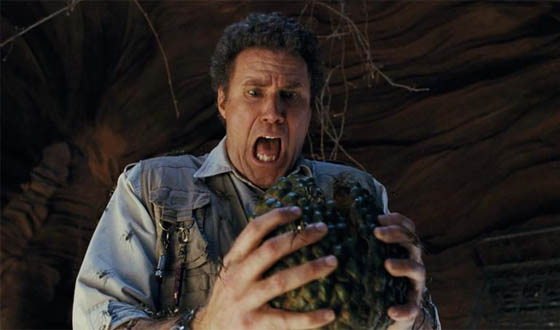 A couple of weeks ago I wrote about Land of the Lost, arguing that it "has the potential to become this year's Speed Racer." Boy was I right: Its $18.8 million opening weekend almost exactly matches the $18.5 million Speed made last year, which means — surprise! — Ferrell's prehistoric comedy will probably go down as the summer's first big flop. My condolences to Will Ferrell, Sid and Marty Krofft, and to sleestak lovers everywhere.
That said, Ferrell's science fiction belly flop shouldn't come as a huge surprise: History has shown us that when you combine Saturday Night Live alumni with science fiction cinema, what you often — indeed, usually — get is a big fat flop. Truly, scifi and SNL are two great tastes that go absolutely horribly together. "Evidence!" you demand. I live to serve.
Eddie Murphy
Murphy actually has two science fictiony hits in The Nutty Professor and its sequel, both of which raked in about $125 million at the box office. But no amount of Buddy Love can ever mask the stench of The Adventures of Pluto Nash, which cost $100 million to make and grossed $4.4 million in the theaters, making it one of the biggest flops in the history of cinema. Really, it's a benchmark. And though you would like to, don't forget Meet Dave: $11 million box office for a $60 million flick — not a benchmark, but still bad.
Bill Murray
Yes, Bill Murray has Ghostbusters. But I would argue that, unlicensed nuclear accelerators aside, Ghostbusters is a fantasy movie (your hint: They chase ghosts). And before you say it, Groundhog Day is fantasy, too. Murray's major foray into scifi was last year's City of Ember — $7.8 million box office on a $55 million budget. The animated movie Osmosis Jones is vaguely science fictional as well, with Murray's cells and medicine fighting viruses, but audiences were allergic: It made just $13 million.
Dan Aykroyd
Aykroyd's major scifi fare is Coneheads (also starring SNL alum Jane Curtin), one of the spate of flicks that came out in the '90s capitalizing on Saturday Night sketches. And like most of those (save Wayne's World), it performed only modestly at the box office, raking in $21 million. Aykroyd had only a bit part in Evolution, but that potential summer hit underperformed as well, dragging in under $40 million.
Jon Lovitz
Remember Lovitz's immortal turn as Emperor Todd Spengo in Mom and Dad Save the World? No? Not surprising, since its box office was just a shade above $2 million — that's right, even less than Pluto Nash! (Less expensive, though.) His roles in The Stepford Wives and Southland Tales don't tally to the "hit" side of his filmography either.
Chevy Chase
Saturday Night Live's first breakout star has only one science fiction flick to his name — probably because it was a flop: Memoirs of an Invisible Man brought in only $14 million in box office, becoming a loser both for him and for director John Carpenter.
Rob Schneider
Rob Schneider landed himself the sidekick role in Sylvester Stallone's Judge Dredd and was probably kicking himself afterward: It made $34 million against a $90 million budget. But I'm sure it seemed like a good idea at the time.
Do any Saturday Night Live alums do well in science fiction? Well, there is one I can think of off the top of my head, but he's not generally remembered as being an SNL performer: Robert Downey Jr., who did his time on the show during its disastrous 1985 season. You may have heard of his little movie called Iron Man, which brought in $300 million or so. Adam Sandler might qualify, if you consider Click to be scifi, which I don't (it's a magic remote control, not a science fictional one). Likewise Billy Crystal, if you tip Monsters, Inc. more as scifi than fantasy — it's a line straddler, to be sure. Some might contend the Austin Powers movies count, but I think they're clearly James Bond spoofs, so I'd disqualify Mike Myers.
No matter how you slice it, the tally of successful scifi movies movies starring SNL alums is dwarfed by the number that have fallen flat on their face. Part of this goes back to the simple issue that comedy and science fiction are a difficult squeeze together. Nevertheless, if I were a producer and someone said to me, "We've got a great science fiction movie with this SNL alum attached," I would have to pass, thanks all the same.
Am I missing any movies here that might change the equation?

Winner of the Hugo Award and the John W. Campbell Award for Best New Writer, John Scalzi is the author of The Rough Guide to Sci-Fi Movies and the novels Old Man's War and Zoe's Tale. He's also Creative Consultant for the upcoming Stargate: Universe television series. His column appears every Thursday.
Read More