Horror Brides Tourney, Round Two: Bride of Frankenstein (No. 1) vs. Big Trouble in Little China (No. 8)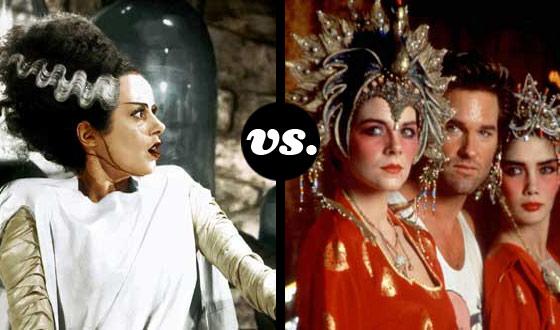 Bride of Frankenstein (No. 1) vs. Big Trouble in Little China (No. 8)" width="560″/>
The very image of old-school female horror, the Bride of Frankenstein made good on her No. 1 seed status and beat the crap out of No.16, Hazel Court of The Premature Burial. For the second round, the competition is not only tougher but doubled: Say hello to Kim Cattrall and Suzee Pai, the green-eyed girls of Big Trouble in Little China.
It's a handicap match in the killer cage, a two-on-one that will truly test the strength of our iconic top contender. You may not know actress Elsa Lanchester by name, but you know her crazy Marge Simpson hairdo — the one with the racing stripes up both sides. Ohhhhhh yeah. On the opposite side of the ring, Kim Cattrall — you know her as the lusty beauty who's been stealing scenes from Porky's right up through Sex and the City. Suzee Pai hasn't enjoyed the same stellar career, but together they add up to a hell-on-wheels tag team who realized a first-round win over another bride of Frankenstein: Jennifer Beals of The Bride. Can Kim and Suzee score an upset and leave Frankie's girl in the dust a second time?
Bride, are you ready? Green-Eyed Girls, are you ready? Let's get it on!

Read More