Horror Brides Tourney, Round One: Beetlejuice (No. 6) vs. Haunted Honeymoon (No. 11)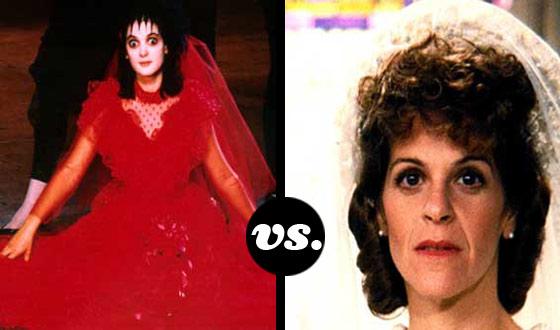 Beetlejuice (No. 6) vs. Haunted Honeymoon (No. 11)" width="560″/>
Despite these ladies' mid-list rankings on, this is a heavyweight match-up. Lydia (Winona Ryder) from Beetlejuice may be the only bride in movie history to rock a blood-red wedding dress on the big day (and no, the handmaids from Handmaid's Tale don't count: they wear red, but they're not brides — get a clue, smart-guy). I mean come on, while most brides are worrying about whether or not they should wear white (Brides of Dracula, I'm looking at you), Lydia flat-out flouts convention and busts out the scarlet.
But despite what Project Runway airheads will tell you, fashion isn't the most important thing in the world. The woman beneath the dress who counts, and on that score it's hard to beat Gilda Radner's Vickie Pearle. The original Saturday Night Live cast member didn't make a lot of movies, but she took her turn at horror comedy alongside Gene Wilder in Haunted Honeymoon. Gilda is an original Queen of Comedy, and if anyone can work a mid-seed upset she's the one.
Lydia, are you ready? Vickie Pearle, are you ready? Let's get it on!

Read More