Horror Brides Tourney, Round One: Big Trouble in Little China (No. 8) vs. The Bride (No. 9)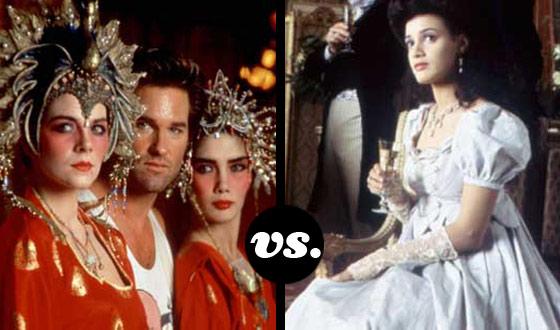 Big Trouble in Little China (No. 8) vs. The Bride (No. 9)" width="560″/>

Goodness me, there are a lot of brides of Frankenstein and Dracula in this tournament. It appears that Europeans dominate horror cinema, but so how about a little multiculturalism?
Let's see, if we pick Big Trouble in Little China, we cover Americans, Asians, Old Chinese Dudes With Mystical Powers (they have a surprisingly strong lobbying group, just FYI) and polyamorists. Whoa! That's a helluva lineup for just one ceremony, but it's what you get when Lo Pan lines up green-eyed girls Kim Cattrall and Suzee Pai for one frakkin' fabulous ceremony. I mean, just look at those gowns! They're fierce!
On the other side if the aisle, we have the old-fashioned European vampire action of 1985's The Bride. In the role of Eva, Jennifer Beal is looking to lay a Flashdance-style footie stomping on the three-way wedding and move on to the next round. Interesting that this L Word actress makes such a strong showing as the marriage-material love triangle target of both Sting and the oh-so-underrated Clancy Brown.
Green-eyed girls, are you ready? Eva the Bride, are you ready? Let's get it on!

Read More