Horror Brides Tourney, Championship Round – Bride of Frankenstein (No. 1) vs. Young Frankenstein (No. 14)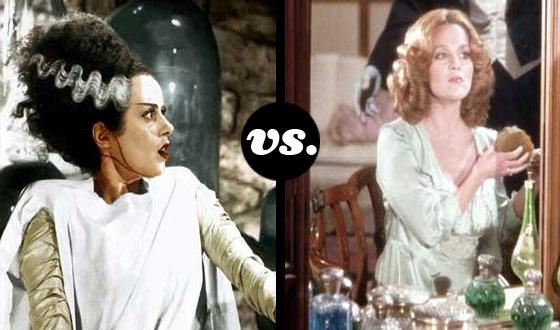 Bride of Frankenstein (No. 1) vs. Young Frankenstein (No. 14)" width="560″/>
Janet goes down! Janet goes down! OK, this phrase doesn't surprise anyone who's seen The Rocky Horror Picture Show, But I'm talking about her shocking semifinal loss: Janet was the No. 2 seed in AMC's Horror Brides tournament, crushing all foes and on an apparent collision course with a championship tilt. But one thing got in her way: Young Frankenstein's Madeline Kahn.
Kahn's Elizabeth is a lowly No. 14 seed, and yet here she is in the finals, following her upset victory over miss toucha-toucha-toucha-touch me. Upsets are nothing new for Kahn in this tourney: She bested the third-seeded Brides of Dracula (Van Helsing) in the first round, a one-on-three whuppin' that left readers scratching their heads and wondering where they could see more goth-supermodel vamp triplets (yes, I'm sure there's a great site; if not, you can probably register it). And Kahn didn't stop there. She went on to top sixth-seeded Winona Rider, playing Lydia in Beetlejuice, then moved on to the showdown with Janet.
So go, Cinderella, go! And what do you get for such a stellar performance? Why, you get to go toe-to-toe and beehive-to-beehive with the most iconic female in the history of horror: the Bride of Frankenstein.
Frankie's honey bun was seeded No. 1 from the start, and with good reason: Everyone expects her to win. She crushed Hazel Court of The Premature Burial (No. 16) in the first round, laid some righteous smacketh upon Kim Catral and Suzee Pai of Big Trouble in Little China in the second (No. 8), and made short work of The Corpse Bride (No. 5) in the semifinals.
Her lightning-streaked tower of tresses is the very symbol of horror, right up there with the Frankenstein monster's big melon, Count Dracula's cape and the Wolfman's Flowbee. Now the Bride is one win away from the tournament championship. One win from claiming her rightful place as the grande dame of horror. But can she lay that final beat-down on Elizabeth, or will the Wrath of Kahn deliver one final upset?
Bride of Frankenstein, are you ready? Madeline Kahn, are you ready? For the championship victory, let's get it on!

Read More